56 E. Palatine Rd., Palatine (NW corner Benton St.)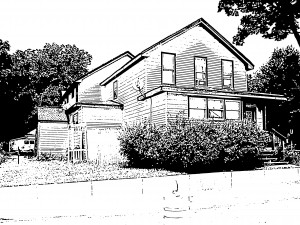 The original part of this house is likely from 1880. An early owner was August Schmidt who had a truck farm for a full block west along Palatine Rd. Vernon Drewes converted the house to apartments in the late 1940's.
130 E. Palatine Rd., Palatine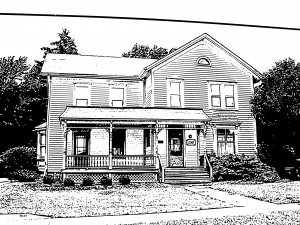 This house was built in 1864 by Laban Putnam who had settled in Plum Grove with his wife, Elvira, in 1839. Mr. Putnam was village president from 1870-74. The home was originally on two acres. For a time, the Putnams ran a boarding house here. It is a simple style home except for the elaborate gingerbread on the porch. The inside woodwork is elaborate and well maintained. Dr. Rush Putnam, nephew of Laban, remodeled it for his dental office in 1901. Later it was owned by Mrs. Margaret Landman, a midwife. A greenhouse was on the back of the large property. Her daughter, Louise and her husband, Fred Folleth, moved here about 1920 when part of their farm land was taken over for the Deer Grove Forest Preserve. Fred ran a shoe store on Bothwell St. from 1920-27.
154 E. Palatine Rd., Palatine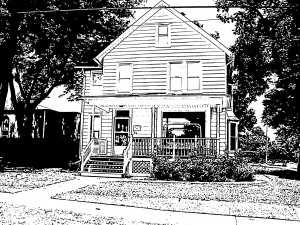 The church parsonage on the northwest corner of Oak Street was built in 1897 to replace a former parsonage that was destroyed by fire that year. From 1921 to 1939, the Rev. John C. Voeks and his wife, Bertha, lived here.
224 E. Palatine Rd., Palatine
George and Martha Clayson bought this property in 1870. It then extended from Hicks Road to Oak Street and Wood Street to Chicago Avenue (now Palatine Road) and was laid out with a nursery and grape arbor. They built this house in 1873. It has a mansard roof with a heavily bracketed cornice and gingerbread porches. There are few houses with mansard roofs in this area. The house is considered to be French Second Empire style. The Claysons left about 1879. The Henry Wolff family bought it in the early 1900's. In 1929 the house was converted to two flats by Elsie Wolff and her husband, Julius Drexler. They occupied the house until Elsie's death in 1965. In 1976 it became home to the Palatine Historical Society and was restored to its original construction. The building is on the National Register of Historic Places.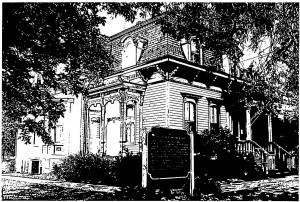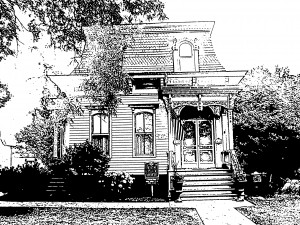 Residences By Street
(click a street to view homes)