Origin of the Carriage House
The fire house and museum currently located next to the Clayson House did not exist when the house was purchased by the Palatine Historical Society in 1976. There was a garage on the site. Palatine Township, previously located at 37 N. Plum Grove Rd., needed space for parking and needed to remove the carriage house located on their property. They donated the building to the Historical Society in 1980. The building was literally moved down Plum Grove to Slade Street and over to Oak St. in its entirety, then put on approximately the same site as the garage that was torn down. The outside was painted the same yellow as the Clayson House. However, the inside was old, unfinished wood with a steep staircase that had no railing, a few light bulbs, and a couple of small windows.
The Historical Society used the building for storage of tools, supplies, signs, etc. Eventually, space was needed for artifacts, for the proper storage of textiles, and especially for Palatine's horse drawn hand-pump fire engine. Plans were made to raise money beginning in 1995 to renovate the carriage house into an old time fire station with a display area for early shops, and storage areas upstairs. After vigorous work by the Society, money was raised to start the work. The inside was completely walled and a ceiling with light fixtures put in. The staircase was redone.
Then along came serendipity. A huge box appeared at the museum from an anonymous person. Inside was a note and the spindles and newel post that had been stolen from the main staircase in the museum before it was purchased by the Historical Society when the house was sitting empty. That newel post and spindles are now on the carriage house stairs. The Palatine fire department put in a fireman's pole and did other work as well. A replica bell tower was constructed to house Palatine's original 1888 fire bell that really can be rung. In 1999, an official opening and ribbon cutting was held and a sign put up naming the building the Palatine Deluge Fire Company & Museum.
Displays include:
Palatine Deluge Co. display includes the village's first hand or horse drawn fire engine
A hand-made dollhouse represents an old village house.
Blacksmith Shop
Ladies Shop
Schoppe's General Store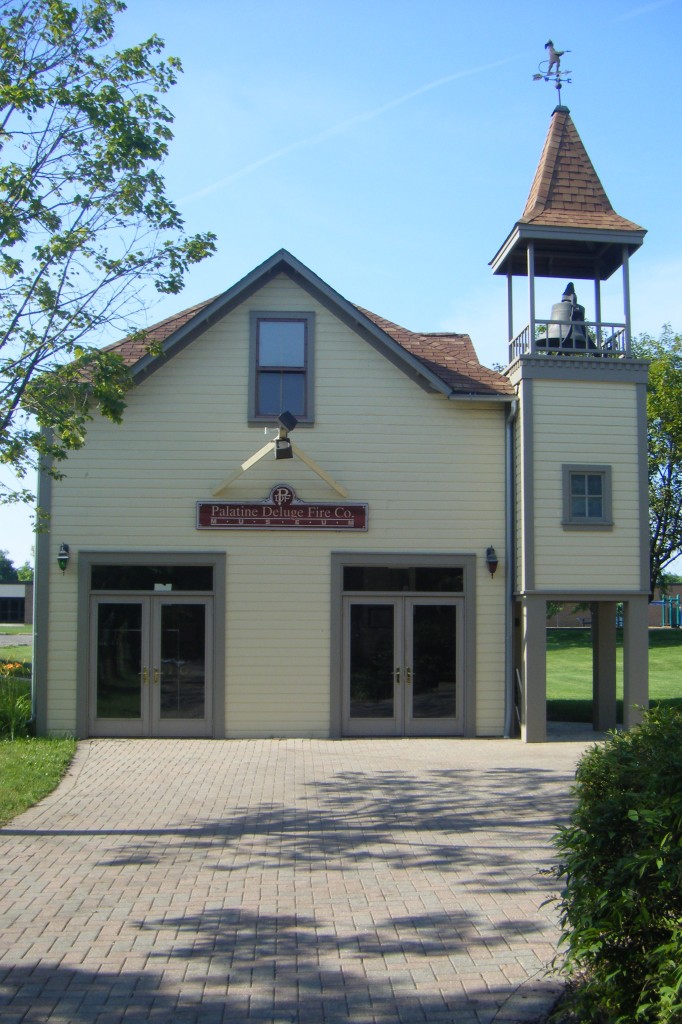 Carriage House