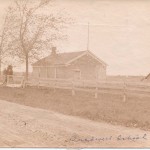 Bradwell School
Bradwell School was built in 1851. The year prior school had been held in a rude shack. Ezekiel Cady helped build the new school and it was named for Judge Thomas Bradwell. After many years of service a straw vote was held in 1921 and School District No. 17 decided to tear down the "old brick school" and replace it with a modern building. John Bergman of Palatine was hired for its construction. It was considered to be a model for the new generation of school houses. The wood and stucco building featured a large classroom with new seats, slate blackboard, modern ventilation, furnace heat and improved inside chemical toilets.
Teachers included Miss Kelley, Mrs. Ackerman and Esther Lindholm. The district voted to consolidate with other small districts into Community Consolidated School District 15 in 1946. The school continued to be used until it was sold at auction in 1954. It is believed that the school was converted to a home still standing at Ela Rd. and Bradwell Rd.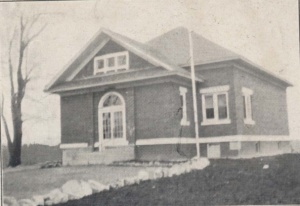 Deer Grove School
This brick school building was locate on Ela Road a half-mile north of Baldwin. It was built in 1926 and had running water, electricity, and gas for a kitchen stove used to feed the students a hot lunch. When the individual district schools consolidated in 1946 this school decided to join the Barrington district. The building was sold and used as a private home.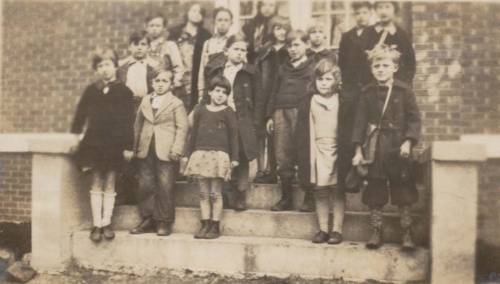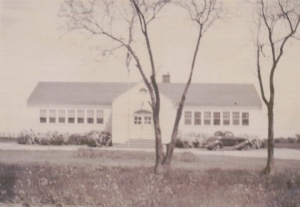 Hillside School
Hillside School was located on Quentin Road north of Illinois. It was torn down in 1964 to build the District 15 Administration Center. It consisted of two rooms and was the last of the rural schools in Palatine.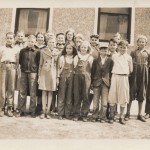 Kitty Korner School
Kitty Korner was also known as Staples Corner School and was located at Rand & Dundee Roads where Denny's Restaurant is now. Other than these four corners this area was still farmland at the time of this photo of the school.  (1930) The building was torn down after the District 15 consolidation in 1946. Mary Csanadi was the last teacher.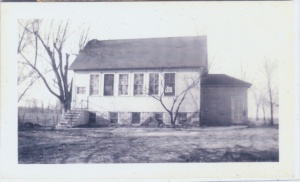 Plum Grove School
This school was located on Hicks Road in the southeast section of the township. After consolidation of schools in 1946 the building was moved to Bensenville and made into a home. Bethel Lutheran Church on Frontage Road is the former site of this school.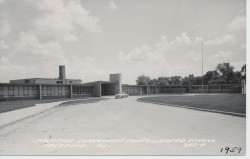 Sanborn School
Sanborn School was built due to an increase in school population.  It has since been enlarged and is located on Oak and Wood Streets.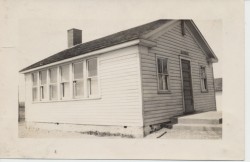 Wente School
This school building was built about 1880. It was located on Quentin Road just south of Fremd High School. During the 1920's the number of students dwindled. In 1930, with new housing, the school became overcrowded. A new one with two rooms was built north of this one (Hillside School) and this building was sold and made into a house.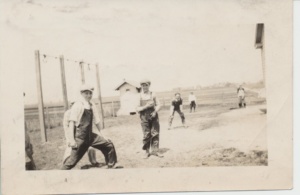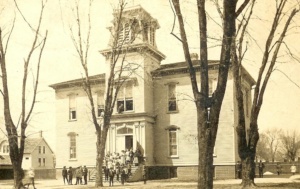 Wood Street School
This four room wooden school was built in 1869 with four classrooms and a basement. It was built on land donated by Joel Wood. Palatine High School was started in one upstairs room here by principal Charles Cutting. It was torn down in 1912.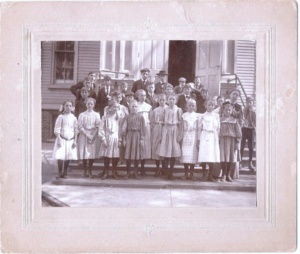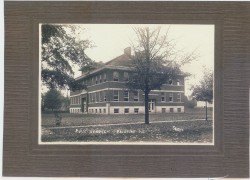 Joel Wood School
When the wooden Wood Street school building was outgrown, another lot was purchased on the same block and Ben Wenegar built a new brick school in 1912. This school was renamed the Joel Wood School This school was closed in 1979 and razed in 1983. Houses have been built on this school block.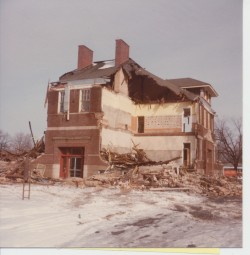 Palatine High School
In 1928 ten lots east of the Joel Wood School were purchased to build a high school. The high school had been in the grammar school since it was organized by Charles Cutting in 1875. The first class graduated in 1877; it was a two year length at that time. It was one of the four oldest suburban high schools and the first northwest of Chicago. The new building was built for 300 students on four acres at 150 E. Wood Street, now the Village Hall and Park District. The first year, 125 students were enrolled. Cutting Hall was included in this building.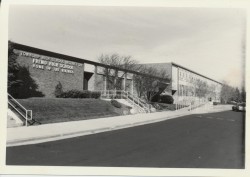 Fremd High School
The population of Palatine was growing and another high school was necessary.  In 1961, William Fremd High School at Quentin and Illinois opened.  It was named after a high school board of education member.