PHS Programs at Palatine Public Library
Through these programs at the Palatine Public Library, the Historical Society provides the community with scenes from many different times and places in our history without charge. High School students even get credit from their history teachers for coming to one of these programs. The programs are held five times a year usually on the 3rd Wednesday of the months of March, April, May, September, and October. They start at 7 p.m.  
We have had many diversified programs including slide shows on old barns, a visit from Mr. & Mrs. Lincoln, folksinging, soldiers acting scenes from the Battle of the Bulge, and a talk on cemeteries. The most recent program was a video/slide presentation on the tunnels that run underneath Chicago. Please come and join us.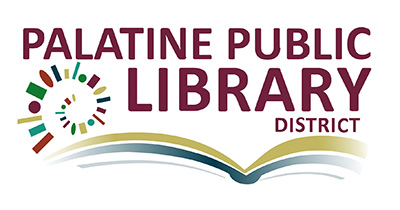 We welcome Scout troops and school groups as well as adult groups!
Please call Museum Coordinator Linni Pesch at 847-991-6460 to schedule a tour.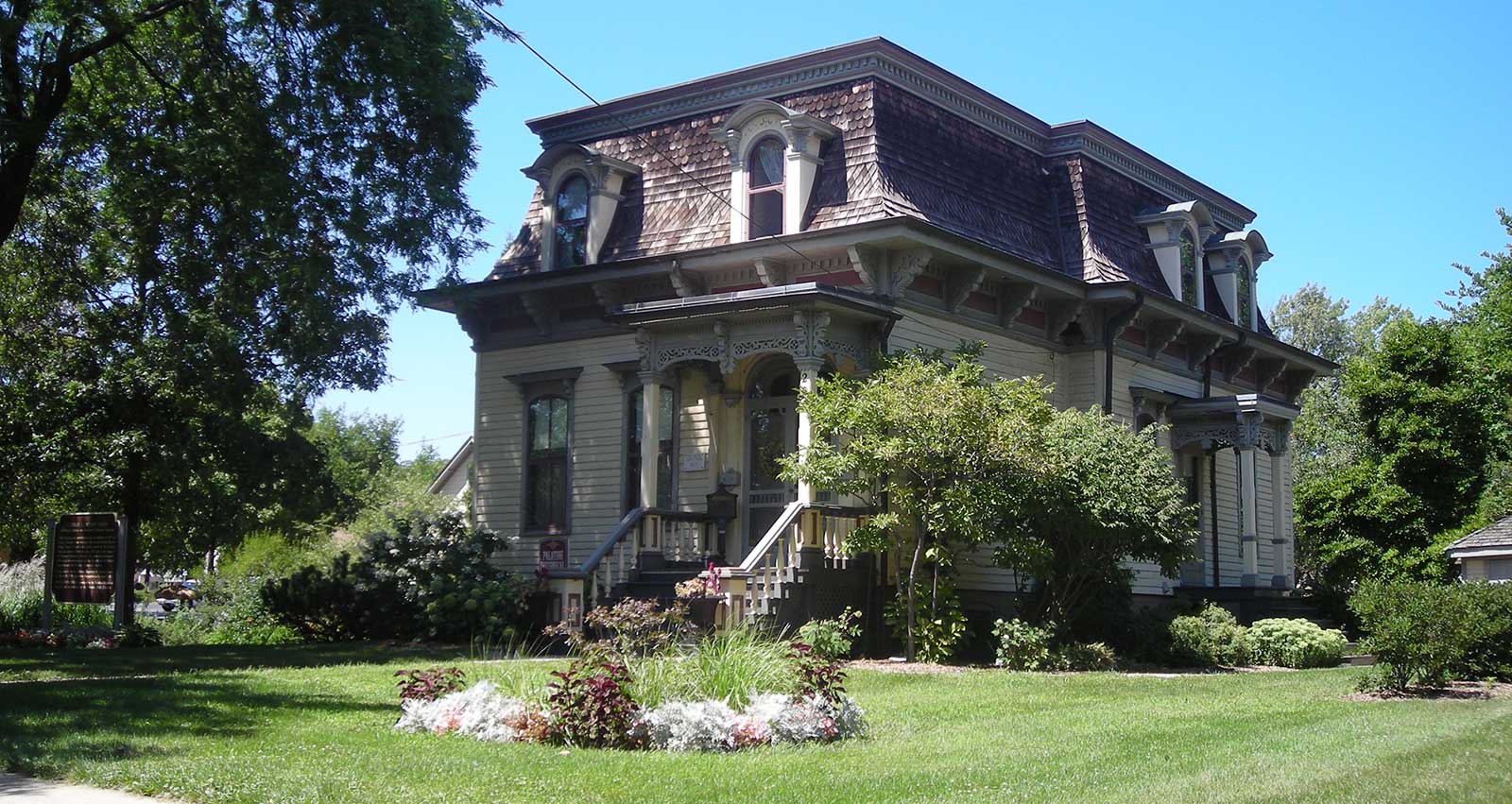 The April teas are the Palatine Historical Society's major fundraiser. Teas were a big social event for Victorian women and we are Victorians! They are held for two consecutive weekends with a one o'clock tea on each of the four days. Some of the large furniture is taken out into the carriage house and tea tables are set up. Society workers and volunteers bring the table linens and tea dishes out of storage and set the tables. They shop and prepare almost all of the delicious little tea sandwiches, scones, and desserts. Some of them make the tea, some serve it, and some clean up and wash the dishes. In addition, a little program is presented after the guests are finished eating to show them various aspects of Victorian life.
The tea dates are advertised on line and in our newsletter as well as Township and Park District publications. If you want to be sure to get a seat, order early because our tickets are generally sold out a month before the teas.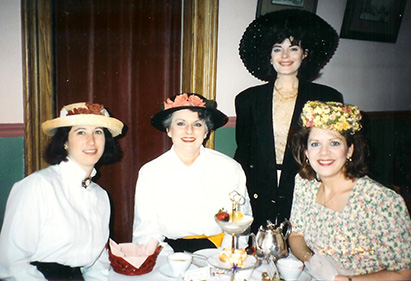 The annual Cemetery Walk began in 1993 for two reasons. The first was to present a living history of Palatine to its residents that would be more interesting, especially to young people. Hillside Cemetery land was donated to the village by Joel Wood around 1854. It represents 150 years of local history that we think should be preserved and shared with the community.
The second reason is that when we began to record the people buried there we found many, many of the old gravestones worn out, broken, or missing. There were no official records for the first 90 years of Hillside's existence. It was necessary to save the records that were there, that is the gravestones. Therefore, we charged for tickets to this event. The money has always been used, and complemented by Palatine Township, for the repair of these old stones whose families are no longer here. This difficult and expensive work is still being done.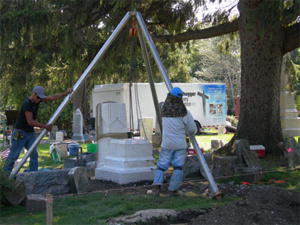 We always appreciate volunteers to lead tours around to the graves of those citizens who come out to tell you about their past lives. And we can always use a few actors and actresses, too.  Here are some a photo taken by Ruben Cuellar in 2016, of cemetery work done by Stonehuggers.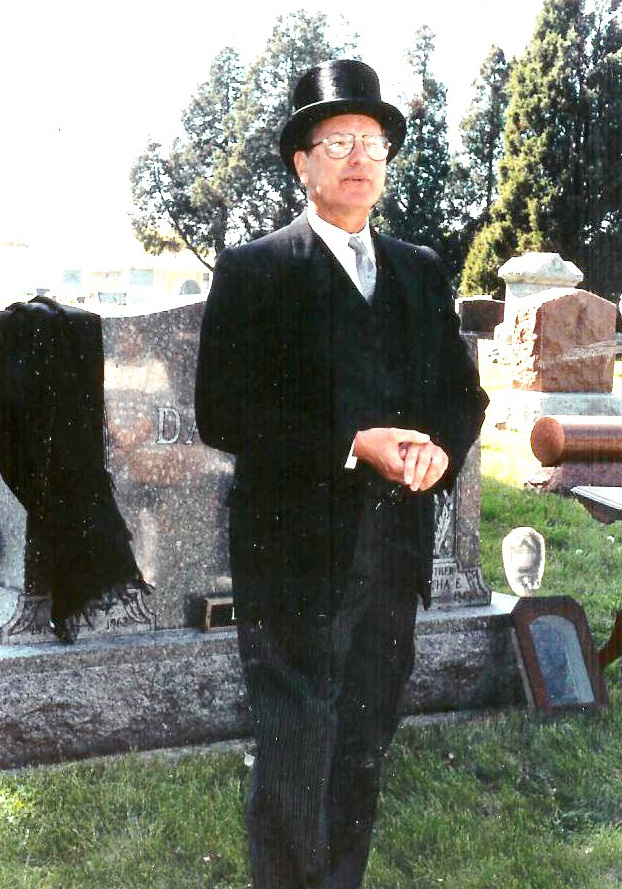 Roger Ahlgrim as Frank Danielsen
Every year the Palatine Historical Society enters a float in the 4th of July parade!
Every year we borrow a hay wagon from John Bruns and the Nolands hitch it to their truck and drive it along the parade route. Of course, we have to decorate it first and every year volunteers spend an evening a day or two before the parade doing that.
So, gents out there and ladies, too, we can always use some physical labor for that one night. We have won many prizes for our floats from the Jaycees!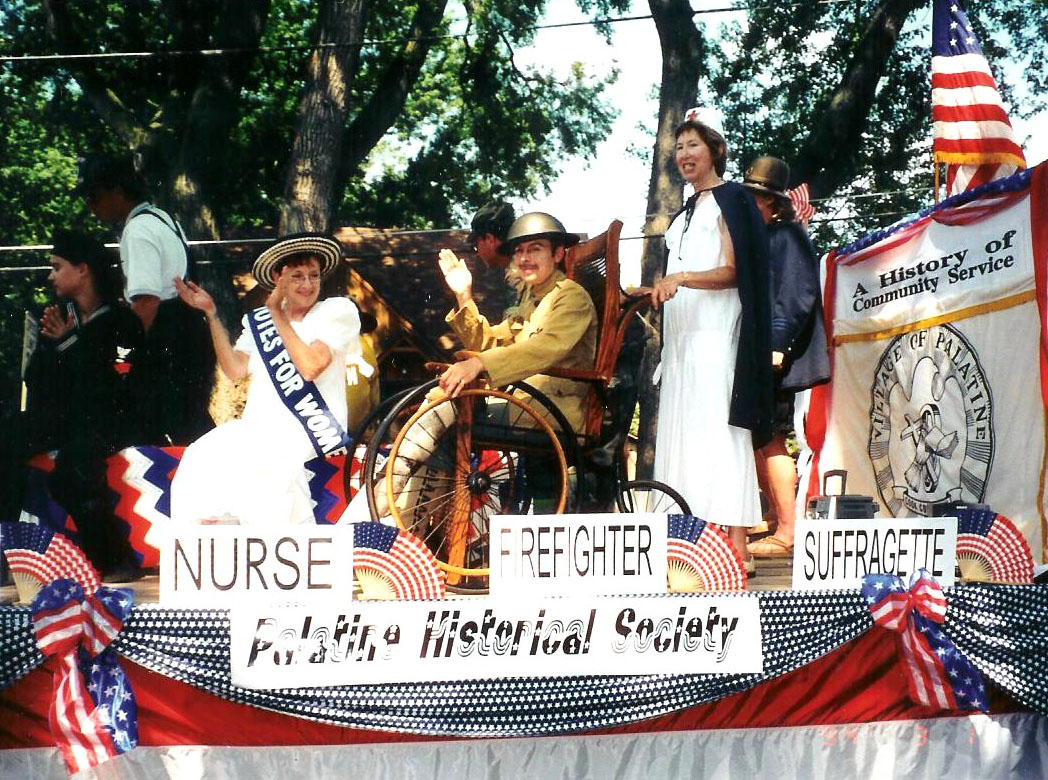 On the first Sunday of December, an Open House is held at Clayson House Museum to invite guests to see the house's Christmas decorations. Each year we try to use a different decorating theme.
Punch and cookies are served and holiday music is played. The museum is open from 1:00 to 4:00. Of course, you can visit the museum every Sunday through the New Year or come on Tuesdays/Thursdays from 9 a.m. to 4 p.m. to see the holiday decorations, though treats are served only at the Open House.
There is no charge for the Open House. Volunteers are asked to bake cookies for that Sunday event.