St. Paul Evangelical Church
In 1870, many of the members of St. John's Church had moved to the village of Palatine. In order to serve them better, mission work began. Services began being held at the old Masonic Hall. The next year, the congregation was organized and named the German United Evangelical St. Paul's Congregation. The first church building was dedicated in 1872 and a parsonage was built on Palatine Road, then Chicago Avenue. The parsonage burned in 1897 and was replaced the same year. In 1925, a new brick building replaced the wooden one. An addition was added in 1955. Since 1957, the church's name became St. Paul United Church of Christ. In 1971, the church celebrated its 100 years by remodeled the sanctuary and in 1985 a new entrance was added and remodeling was done to make the church handicapped accessible.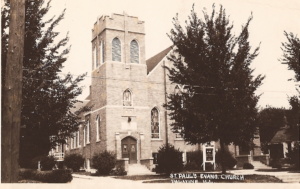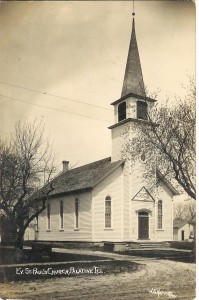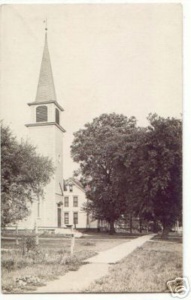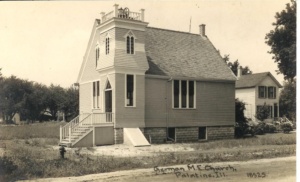 Salem Evangelical Church
Circuit riders from DesPlaines held services among the early Plum Grove settlers. John Nordmeier donated land at Plum Grove and Kirchoff Roads to build a church. There is no record of when it was built but it was struck by lightning and burned in the early 1890's. This church was built at the same location. In 1912, a lot was purchased at Plum Grove and Lincoln and the building was moved into town. The congregation became small and was disbanded in 1955. The building was sold to the Lutheran Church. The Salem Cemetery at Plum Grove and Kirchoff still exists on the land once belonging to this church.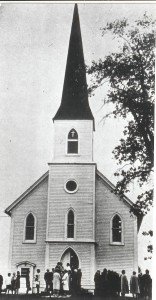 St. John Evangelical Church
This is the present church of St. John's built in 1885. It was the third building on these grounds. The first was built in 1846, replaced in 1876, burned down and rebuilt in 1885. In 1957 the name of the church became St. John United Church of Christ, a denomination formed from the merger of two church groups. Directly east of the church are early burials. Many early German settlers are buried here. East of the parsonage is the newest section of the cemetery called Mount Hope. Three acres of land west of the church were purchased and in 1969 St. John Garden Chapel was dedicated.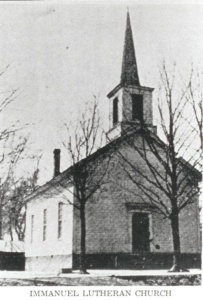 Immanuel Lutheran Church
In 1869, eleven families met at the train depot to discuss the formation of a Lutheran congregation. Before that a minister from Schaumburg Township held services every other Sunday at the Masonic building at Wilson & Bothwell. A week later the membership was formally organized. Four acres were purchased on Greeley Street including the cemetery. The cemetery was formally dedicated and plans progressed for a church building on that site. Lack of funds held up the building of the church and eventually the land was sold to H. C. Batterman. With that money, a church building formerly used by the Disciple Church was bought on Plum Grove Road. A parsonage was built to the north of the church.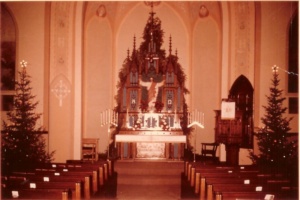 In 1873, the congregation joined the Evangelical Lutheran Synod of Missouri. Services were held in German until after the turn of the century when English services were held once a month. Since 1943, all services are in English. The present church building was dedicated in 1970 and additions have since been built.
Countryside Church Universalist Unitarian
This church held its first meetings at the Highland Grove School at the southwest corner of Algronquin Road and Ela Road in 1960. They have since moved to their current location at 1025 North Smith Street.
St. Theresa Catholic Church
The church held its first Mass on the second floor of the old village hall at 117 W. Slade St. in 1930. Boxing matches at the Palatine Fair Grounds helped raise money for the building fund. It broke ground for its first building at 35 W. Wood St. in 1941. Running out of room it bought five acres at 467 N. Benton St. in 1952 and laid a cornerstone the next year. In 1955 it built the school next door. 
St. Thomas of Villanova Catholic Church
Cardinal Albert Meyer appointed Fr. John Wall who named the parish St. Thomas of Villanova.  The land was purchased in the Winston Park subdivision.  In 1962 the Women's Club was formed.  Fr. Francis Waldron was appointed pastor.  Ground breaking ceremonies took place for the school building.  In 1963 the rectory (1138 Anderson) and the convent (1152 Anderson) were purchased.  The first mass was celebrated in the church space located in the school.  St. Thomas of Villanova School opened with grades 4, 5, and 6 in September.  From 1967 to 1971 Fr. James Rowley was appointed pastor, the new Church building was dedicated, the parish Council and the Board of Education began, and the Home School Association met for the first time.  The first permanent Deacons, John Pistone and John Richard, were ordained and the first lay principal, Charles Swangren, was hired in 1972.  In 1974 Fr. Jim Wheaton was the first parishioner to be ordained a priest.  In 1983, forty-six years after his ordination, Fr. James Rowley announced his retirement.  Father Walter Huppenbauer was appointed pastor.  
St. Thomas celebrated its 25th anniversary in 1986.  In 1988 church needs were reassessed and confirmed.  An architectural firm does preliminary design.  In 1994 Fr. Ray Yadron was appointed pastor.  In 1999 St. Thomas was accepted as a pilot parish in the Archdiocesan Millennium Campaign, "Sharing Christ's Gifts."  During 2002-2003 a ground breaking ceremony and dedication for a gathering hall, office, and meeting rooms to be added on to the church.  In 2006 Fr. Ray Yadron announced his retirement.  Fr. Tom Rzepiela was appointed pastor.  In 2009 preparation began for St. Thomas's 50th anniversary in 2011.  Renovation of the church was scheduled.  In 2011 a series of planned celebrations began, culminating in the dedication and blessing of STV church and grounds with Cardinal Francis George.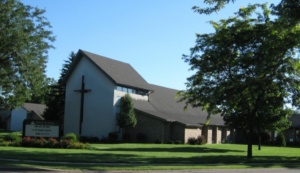 Prince of Peace Lutheran Church
In June of 1969 the Mission Board of the Northern Illinois District of Lutheran Churches purchased land in northern Palatine on Hicks Road for a new congregation. The Rev. Norbert Kleidon as Missionary-at-Large to north Palatine. The first core group meeting with six in attendance was held on September 17, 1970. In February of 1971 the first worship service was held in the basement of Virginia Lake School with 150 people attending. Ground breaking ceremonies for the first church building were held in September of that year. The congregation was chartered as Prince of Peace Lutheran Church and Rev. Kleidon installed as the first pastor. The first worship service in the newly constructed building was held on August 6, 1972. A mortgage burning celebration was held as the loan from the Lutheran Church Extension Fund was paid off in 1986. Groundbreaking on a 7,000 square foot addition of classrooms, a choir room, a fellowship hall/gymnasium, washrooms, storage space, a kitchen, and an extended lobby was held on Easter Sunday of the following year. In 1988, Rev. Kleidon accepted the call to Immanuel Lutheran Church in Mokena, Illinois and Rev. Michael Newman of Owatonna, Minnesota, was installed as pastor. In June of 1994 groundbreaking was held for a second building expansion. A year later the first worship service was held in the newly expanded sanctuary. In 1998, Rev. Scott Christenson was installed as Associate Pastor. A third building expansion was completed, which added classrooms on west side of gym and north offices/classrooms/library in 2002-2003.
In 2004, Rev. Michael Newman accepted the call to Concordia Lutheran Church in San Antonio, Texas and Rev. Christenson was installed as Senior Pastor. Rev. John Glover was installed as Teaching Pastor in 2005. A Long-range strategic plan was adopted by the Voters' Assembly that included plans to plant two new congregations in 2008. The launch of public worship services at Crosspoint Lutheran Church in Lakewood, Illinois, Prince of Peace's first daughter church, began in 2011. The same year, Rev. Steve Deombeleg of Holy Trinity Lutheran Church in Tucson, Arizona was installed as Prince of Peace's first Hispanic Outreach Pastor. At the beginning of 2013, Rev. Karl Fay of Trinity Lutheran Church in Davenport, Iowa, was installed as Discipleship Pastor.
Sikh Religious Society
The Sikh Religious Society of Palatine was formed in 1974. A gurudwara or place of worship was established a few years later at 1280 Winnetka St.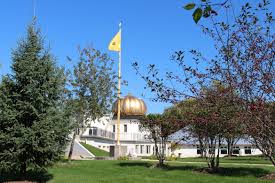 Bethel Presbyterian Church
The Bethel Presbyterian Church is a Korean church that was formed at 399 N. Quentin Rd. in 2015.