The history of this cemetery is lengthy and complex. The cemetery began when Ezekiel and Adaline Cady buried their son, Wilbert, on a knoll behind the orchard on their farm in 1841. The Cadys and most of the early Deer Grove settlers had only been here a few years and there was no church building and no cemetery. Other nearby settlers added the graves of their dead to Wilbert's as time went on. In 1856, Ezekiel and Adaline Cady deeded the land the cemetery was on to the Palatine Township trustees and their successors. Cady is the first cemetery to come under the township's care.
It is known from articles in the early issues of the Palatine Enterprise that citizens came to Cady Cemetery on Memorial Day to decorate the graves and honor the dead soldiers here. It appears that by the 1920's the cemetery had fallen into some decay. In 1924, Sarah Page, whose family is buried here, spearheaded a drive to clean up the cemetery. She also appealed to all lot owners and their descendants for donations for a new fence. A cemetery association was formed. The Barrington Review announced that July 26, 1924, was the scheduled date for cemetery clean up. Sarah Page expressed her thanks to all who had donated money, however, more was needed. She also invited all to the clean up and explained that by doing some of the work themselves, the committee could reserve more money for the fence. A statement of the committee's donations and expenses has survived. A list of about forty people donated $373. A length of 583 ft. 5 in. of Arrow Fence made of nine-gauge chain link with a gate was purchased for $470. The old fence was sold for $5 and two men were paid $18 for cleaning the cemetery. Another news article reported an August 19, 1932, meeting of the cemetery association. A membership fee was set at $4 in the hope that this donation would enable the association to maintain the cemetery properly. The association cared for Cady up until World War II.
The next reference to Cady Cemetery is found in 1950. At that time, the township had the fence repainted. In the township minutes of 1953, 1956, and 1957, an allotment is made for cleaning and cutting the grass in Cady Cemetery. During the next decade and a half, there are numerous reports of vandalism in the cemetery. Cady's secluded location was partly to blame since the cemetery is surrounded by trees and bushes. Stones were knocked over, moved, and broken. Beer bottles, cans and other garbage were strewn on the grounds. Weeds were prevalent. In 1960, six youths were caught digging up a grave. They were sentenced by a judge to clean up the cemetery and keep it clean for the remainder of the summer.
By 1969, the township was allotting $250 a year for cemetery maintenance. This consisted of mowing once or twice per year and occasional work due to vandalism. According to one news report, only 1/10 of this amount was being used. Beginning in 1972, $2,000 was allotted for cemetery care. The township made plans to renovate Cady. In October of 1972, they contracted with Arlington Turf Nursery to remove shrubbery and small trees in and around the fence of the cemetery and also to fill holes. That same year a Township Cemetery Committee was formed headed by Averry Wolfrum. Also serving on the committee were Mary Louise Regan and William Kehe. The chain link fence was restored in 1974 and a lock was put on the gate to deter vandalism. Dense shrubs and undergrowth continued to be removed. The township contracted with a landscaper to mow the grass regularly. In August of 1974, another case of vandalism was reported in the Daily Herald. The heavy wire cable blocking the entrance road was hack sawed through in two places. Someone tried to drive through the iron gates to the cemetery. In October of 1975, Reiner Siedentop and a troop of Boy Scouts were given permission to work on clean up in Cady Cemetery. Another report of vandalism is reported in the May 13, 1977, edition of the Daily Herald. Two tombstones from Cady Cemetery were found in a clump of trees in Rolling Meadows. The culprits were not caught, the markers were returned to the cemetery, and barbed wire was placed on top of the fence.
In the early 1980's, there was another attempt to improve conditions at Cady. Bill Rose, a direct descendant of John and Ann Kitson, donated a new gate to replace the old rusted one and repaired the fence. That gate is still in place. He also epoxied some of the broken stones together and placed many fallen tombstones upright in braces of aluminum angle irons. Yet another case of vandalism was reported by the newspapers in the summer of 1984. The barbed wire was taken off the fence and the iron gate was knocked off its hinges. Many granite tombstones were knocked off their bases and the large Cady monument was cracked in half. This article also reports that some neighborhood boys had once buried a dog in the cemetery. The township repaired the gate and the Cady monument as well as up righting some of the stones that had been knocked over.
In recent years the Palatine Township Cemetery Committee has continued to report on conditions in Cady and the other township cemeteries of which there are now five. Cady is kept free of brush and tall weeds. It is mowed regularly. There has been an infestation of gophers in the cemetery and it is riddled with burrows. The township has been working to eradicate this problem and in July of 2003, the animal control company reported that the cemetery is free of gophers. The holes were filled in. There was much more to do. The Cady Questers of Inverness stepped in with the idea of raising money to completely replace the cemetery fence with a wrought iron one. Their fundraiser at Mill Rose Restaurant was very successful with the help of Bill Rose and township cemetery funds there is now a black wrought iron fence around the cemetery grounds along with the former Cady Cemetery gate. In the fall of 2009 the cemetery was re-dedicated and the Civil War soldiers buried there were honored with cannon fire by the Sons of the Civil War Veterans reenactors and rifle salutes by the Palatine American Legion.
In 2010 Stonehuggers headed by Helen Wildermuth came from Indiana to restore the damaged stones at Cady. There is much more restoration and they were back again this year to continue working on the cemetery grounds as well as Hillside Cemetery. The work will continue next year.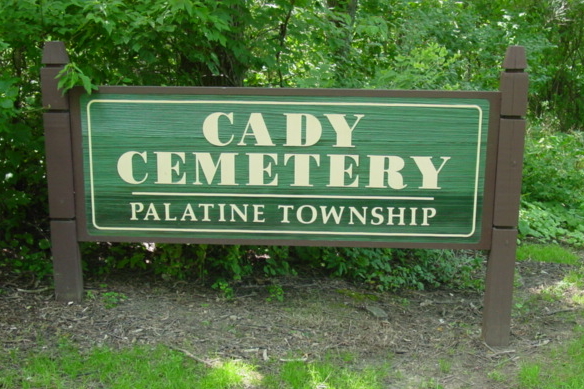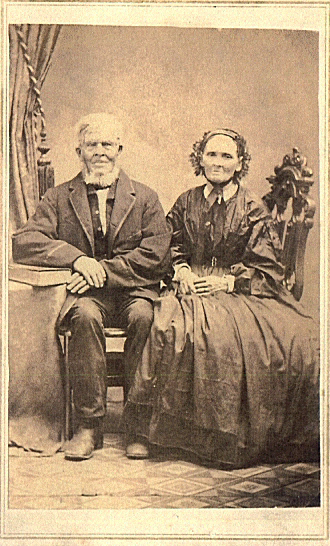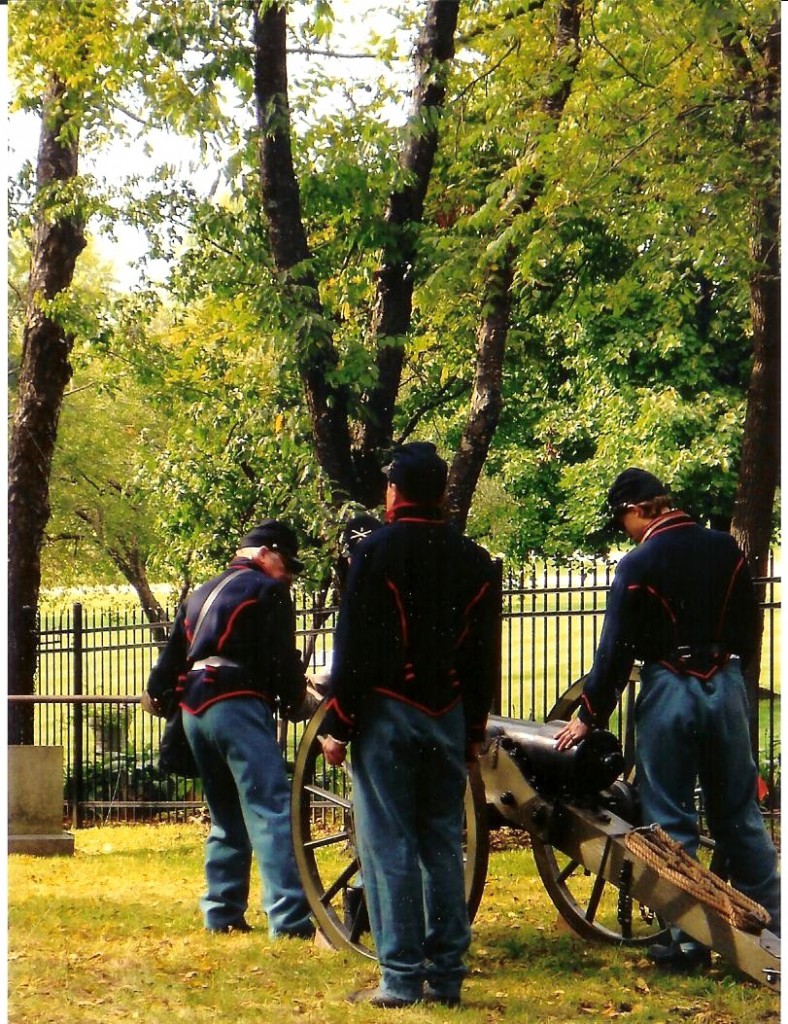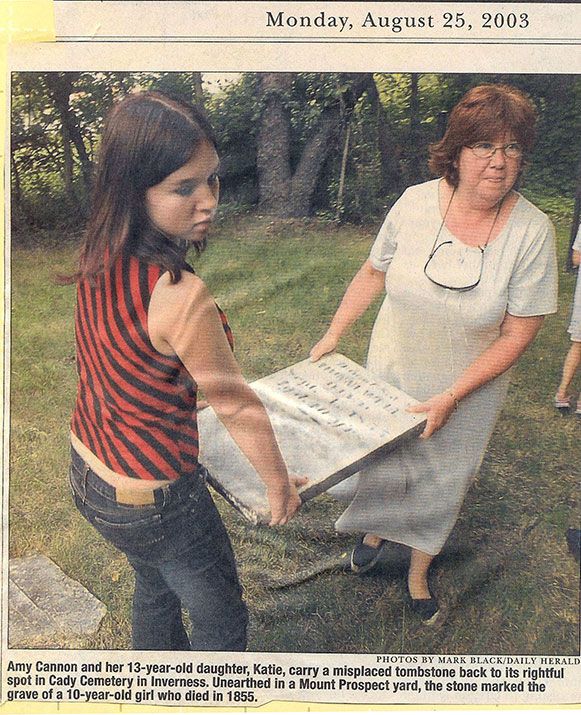 1855 Tombstone Returned in 2003
KNOWN BURIALS | CADY CEMETERY
Ethan B. Abbott, D. Jan. 26, 1855, 32 yrs. 6 ms 1 day
Thursay Ann, wife of Bela H. Abbott, Died Oct. 23, 1847, Aged 16 years 8 mos.
Francis T. Adams, b. Nov 19, 1818, d. Mar. 31, 1882, Father
Warren L. Bellows, d. July 10, 1854, 32 Y, 7 D
George Boothman, b. Mar. 28, 1811, d. Apr. 2, 1883
Hannah Boothman, b. June 3, 1811, d. Mar. 3, 1899
Robert Boyce, d. Sept. 11, 1863, 27 y. 11d.
John Boyce, d. June 7, 1864, Age 66 y. 9 mo.
Margaret Boyce, wife of John Boyce, D. Mar. 18, 1866, Age 69 yrs.
Richard Burill, b. 1817, d. 1864
Nancy Burill Bryan, b. 1822, d. 1910
William, Their Son, b. 1858, d. 1910
Susan Burill Daniels, b. 1848, d. 1908
Laura G., Her dau., b. 1869, d. 1871
Ezekiel Cady, d. Oct. 1, 1873, 82 Y 5 M 12 D
Adaline, Wife of Ezekiel Cady, d. Aug. 9 1881, 82 Y 26 D
Arad A. Cady, Son of Ezekiel & Adaline Cady, d. Corinth, Miss., Sept. 4, 1863, 44 Y 10 M 8 D (Memorial stone; he is buried in Corinth National Cemetery)
James M. Cady, d. Oct. 18, 1845, 18 Y 8M, Son of Ezekiel & Adaline Cady
Hannah Carley, d. Jan. 15, 1846, Wife of A. Carley
Fred Castle, Son of L. D. & L. A. Castle, D. May 1, 1863, 2 Y 2 M 12 D
Ina Castle, Dau. of L. D. & L. A. Castle
Phineas Castle
Elizabeth Catlow, Dau. of J. & E. Catlow, d. Oct. 12, 1861, 17 Y, 2 M
John Catlow, b. Dec. 10, 1822, d. March 2, 1905 Elizabeth, b. Dec. 7, 1823, d. Apr. 2, 1897
Leroy Catlow, Son of Daniel & Melissa Catlow, b. June 8, 1892, d. Mar. 2, 1894
William Clay
Charlotte Collen, Wife of J. Collen, d. July 8, 1882, 56 Y, 10 M
Heinrich Dahle, Geboren 1 Marz, 1827, Gestorben 23 Oct., 1881 (Her obiturary says Dora Dahle, his wife, is also buried here.)
Isaac Edgerton, Died July 8, 1848, AE. 81 ys.
Sarah, Wife of I. Edgerton, Died Sept. 16, 1851, Ae. 84 ys.
Sarah Edgerton, Dau. of L. & J. Edgerton, d. Oct. 3, 1843, 13 Y, 1 M, 1 D
Martha Lord Edgerton, Formerly Wife of S. B. Hunnewell, d. Apr. 4, 1883, 77 Y 8 M 11 D
Zebina Egerton, Born July 25, 1791, Died Apr. 2, 1883
John Elvidge, d. Aug. 29, 1850, 39 Y 5 M
Lawson Elvidge, Co. H, 39th Ill. Inf.
Large Elvidge Monument: Lawson F. Elvidge, b. July 26l, 1848, d. Sept. 18, 1906 Martha, Wife of Lawson F. Elvidge, b. Oct. 13, 1849, d. Sept. 13, 1898 Cynthia, b. June, 1875, d. Aug. 1875 Nellie, b. July, 1882, d. Nov. 1882 James, b. Mar. 1884, d. Jan. 1885 Grant, b. July, 1885, d. Jan. 1887
Adelbert Fosket, d. Feb. 13, 1858, 6 Y, 2 M, 3 D, Son of A. H. & L. M. Fosket
Alta C. Fosket, Dau. of Milton & F. M. Fosket, d. July 25, 1860, 1 Y
Frank Fosket, Son of Milton & F. M. Fosket, d. Sept. 9, 1848, 3 Y, 1 M, 18 D
John Fosket, d. Feb. 15, 1843, 56 Y, Our Father
Fosket, Infant son of Milton & Fannie Fosket, d. Sept. 29, 1862, 1 M 11 D
Elizabeth M. Fraas, Wife of L. J. Fraas, d. Apr. 18, 1866, 44 Y, 5 M, 6 D
Chas. Freeman, d. Nov. 9, 1860
Eliza Freeman, b. 1810, d. 1893
Esther Ann Freeman, Dau. of C. & E. Freeman, Died Sept. 12, 1862, 9 Y, 4 M, 27 D
Mary Freeman, Dau. of W. & C. Freeman, d. Jan. 29, 1863, 12 Y, 8 M
Samuel Freeman, d. Dec. 16, 1849, 61 Y
Wm. Freeman, d. Aug. 6, 1856, Aged _4
James Freeman, son of William & Charlotte Freeman
Louisa Fuller, d. Apr. 25, 1855, 15 Y, 9M, 9 D, Dau. of Alvah & Louisa Fuller
Fannie Galpin, Dau. of H. B. & M. J. Galpin, d. Jan. 1, 1863, 1 week 1 day
M. Jane Galpin, Wife of H. B. Galpin, d. Sept. 24, 1864, 30 Y, 6 M, 18 D
John Geary, b. June 11,1813, d. Oct. 26, 1893
Julia Geary, b. Dec. 11, 1814, d. Sept. 26, 1894
Theo. Geary, Co. E, 113th Ill. Inf.
John A. Hall, Son of G. & E. Hall, d. Aug. 3, 1843, 18 Y, 1 M, 29 D
______ Hall, Born in England
Carrie L., Dau. of Warren & L. M. Hough, d. July 20, 1857, Age. 18 Y, 13 D
Samuel B. Hunnewell, d. Jan. 16, 1853, 53 Y
(Martha Jane), Dau. of S. & M. Hunnewell, Died Sept. 4, 1855, Aged 10 Yrs.
(Kate Fraas), Wife of S. C. Jayne, d. Dec. 27, 1871, 26 Y.
John Kitson, b. Aug. 16, 1819, d. Feb. 15, 1895; Ann, Wife of John Kitson, d. Dec. 18, 1876, 56 Y, 10 M, 24 D; Mary J., d. Oct. 24, 1855, 1 Y, 11 M; Fanny, d. Oct. 25, 1861, 5 Y, 7 M
Lloyd Kitson, b. 1887, d. 1964
Also buried here with no stones: Ethel Kitson, James Kitson, Susan Geary Kitson
Also thought by descendants to be buried here: Lizzie Kitson, S. L. Kitson, Emma Jordan, Alex Wilson
Elizabeth, Wife of Henry Leavenworth, Died ____20, 1847
James Miller, d. Oct. 14, 1846, 25 Y, 2 M
Lurenda Mix, b. July 6, 1782, d. Oct. 23, 1850
Ira Mix, b. Feb. 9, 1819, d. Nov. 21, 1879
Elizabeth Mix, b. Apr. 26, 1825, d. Oct. 20, 1861
Harriet Mix, b. Oct. 10, 1842, d. Aug. 10, 1853
Lurenda Mix, Wife of J. Wallace, b. Apr. 26, 1844, d. Oct. 19, 1871
Warren Mix, b. Aug. 21, 1850, d. Apr. 24, 1897
Milton Mix, b. Sept. 19, 1842, d. June 14, 1846; Lois Mix, b. July 20, 1848, d. Oct. 15, 1849
Joseph Moorhouse, d. Feb. 1, 1877, 56 Y
Willie L. Moorhouse, Son of W. & C. Moorhouse, d. July 16, 1864, 1 Y, 10 Mm 28 D
H. M. Moorhouse, d. July 8, 1864, Age 39 Y 5 M
Charlotte Moorhouse, d. 1859, Age 68
William Moorhouse (according to Moorhouse genealogy)
George Page, b. Feb. 14, 1802, d. Oct. 3, 1879; Ann Page, b. Oct 11, 1802, d. Sept. 26, 1884; Betsey Page, b. 1833, d. 1876; Thomas Page, b. 1836, d. 1866; George W. Page, b. 1842, d. 1866
Lilly Page, b. Jan. 8, 1879, d. Sept. 27, 1883
Ge___ Roberts, Son of H. & C. Roberts, d. Feb. 19, 1855, 7 Y 2 M
John T. Rollins, d. Jan. 25, 1856, 20 Y
Two soldiers in the 1920 Roll of Honor are listed as being buried here:
William Rollins, Co. E, 113th Ill. Inf., d. March 23, 1863; John Rollins, Co. D, 37th Iowa Inf.
Tharp Funeral Home record shows: Tonnie (?) Rosenthal, d. Aug. 25, 1949, buried here.
Lena Samar, b. 1916, d. 1942
Amelia Schufeldt, Dau. of H. & M., D. March 10, 1866, Aged 14 years 5 months 10 days
Claude J. Simonton, b. Sept. b. Sept. 12, 1908, d. Sept. 26, 1949
Francis Marion, Dau. of Sidney & Julia A. Sutherland, Died August 18, 1848, Age. 1 yr. 2 mos. & 18 dys.
Plinn, Son of Sidney & Julia A. Sutherland, Died Apr. 12, 184_, Ae. 1 yr. 2 mos. 21 days
Thomas Swick, b. Sept. 14, 1809, d. Aug. 14, 1887; Catherine, b. Nov. 19, 1814, d. Feb. 4, 1905
John Swick, d. Mar. 14, 1865, 68 Y, 1 M, 4 D
Sarah Swick, Wife of John Swick, d. Jan. 11, 1858, 60 Y, 5 M
Sarah E. Swick, Wife of H. L. Swick, d. June 10, 1870, 20 Y, 6 M, 27 D
Wm. Osker Swick, Son of M. & C. T. Swick, d. Mar. 7, 1855, 6 M, 10 D
Stones have been seen at some time for Tunis Swick, Harrison Swick, & Flavius Swick.
Hermia Swick wife of Charles is said to be buried here in her obituary. She died Mar. 8, 1908.
Peter Vanderbogart, Died May 18, 1888, 69 Ys. 3 Ms 13 Ds.; Caroline Swick, Wife of P. Vanderbogart, Born Mar. 8, 1823, Died Aug. 7, 1894
Sarah V. Bogart, dau. of P. & C. Bogart, Died Mar. 16, 1866, 10 Y, 8 M, 7 D
Ann Van Valkenburg, Wife of Wm. Van Valkenburg, d. Jan. 11, 1858 in her 85th year
Darius Wiard, Son of Jeremy & Hannah Wiard, d. Nov. 11, 1848, 16 Y, 1 M, 11 D
Jane A. Wiard, Dau. of Jeremy & Hannah Wiard, d. Oct. 31, 1848, 14 Y, 1 M, 8 D
Adelia, Wife of Thomas F. Wilson, Died Jan. 24, 1857, Ae. 36 yrs. & 5 mo.
Coraet Wilson, dau. Thomas & Adelia Wilson, d. Dec. 15, 1856, 5 Yrs. 1 Mo.
Hannah W. Wilson, Wife of J. Wilson, d. Sept. 20, 1861, 60 Y 6 M
(Na)ncy Wilson, Wife of ____ F. Wilson, d. ____ 4, 1869, _____ & 6 m
________ Wilson, Wife of Thomas F. Wilson, d. Nov. 26, 185_, 63 Y
Mary A., Wife of Thomas F. Wilson, Died June 28, 1850, 35 Y 4 M