Wolfrum or Old Plum Grove Cemetery is the oldest known cemetery in Palatine Township. It began in an unused corner of Orrin Ford's farm where he settled in 1836. When Ford sold his land circa 1856, he deeded the cemetery to Cook County. Today the cemetery is adjacent to a modern subdivision. It is located at the end of a path that runs off of Greenwood Court in Rolling Meadows. There are old stories of wooden crosses marking the graves and of a farmer who took some of the stones to ford Salt Creek in his wagon. Today there is no stone in its original location. It has been called the Lost Cemetery because it was forgotten for many years. Weeds and scrub brush grew over the stones and covered them from view.
In 1975, the city of Rolling Meadows was laying a sewer line to serve a new development. The construction crew, clearing away trees and brush inadvertently plowed through the tangled growth covering the cemetery and damaged the few stones left standing. Averry Wolfrum, chairman of the Palatine Township Cemetery Committee, searched the area with the help of the Rolling Meadows Public Works Department and removed all fragments of tombstones they could find. In 1994, Cook County deeded the cemetery to Palatine Township. The Township trustees renamed the cemetery the Averry Wolfrum Memorial Cemetery. In 1997, Eagle Scout David Root earned a Badge by cleaning up the cemetery, removing brush, dead trees, and trash. A wood chip path was laid and the old tombstones were returned to the cemetery and laid in concrete bases by Palatine Township. In 2010, another Eagle Scout, Brian Winkelmann, did some additional restoration. He redid the wood chip path that had deteriorated. Gravel was placed under the wood chips to keep the path in better shape and dirt was used to fill in the low-lying center of the path that often filled with water. Two stone benches were placed nearby and a historic plaque attached to a large boulder.
It is not known whether all the stones placed here actually belong here. Furthermore, some people are known to be here from old records but have no stones.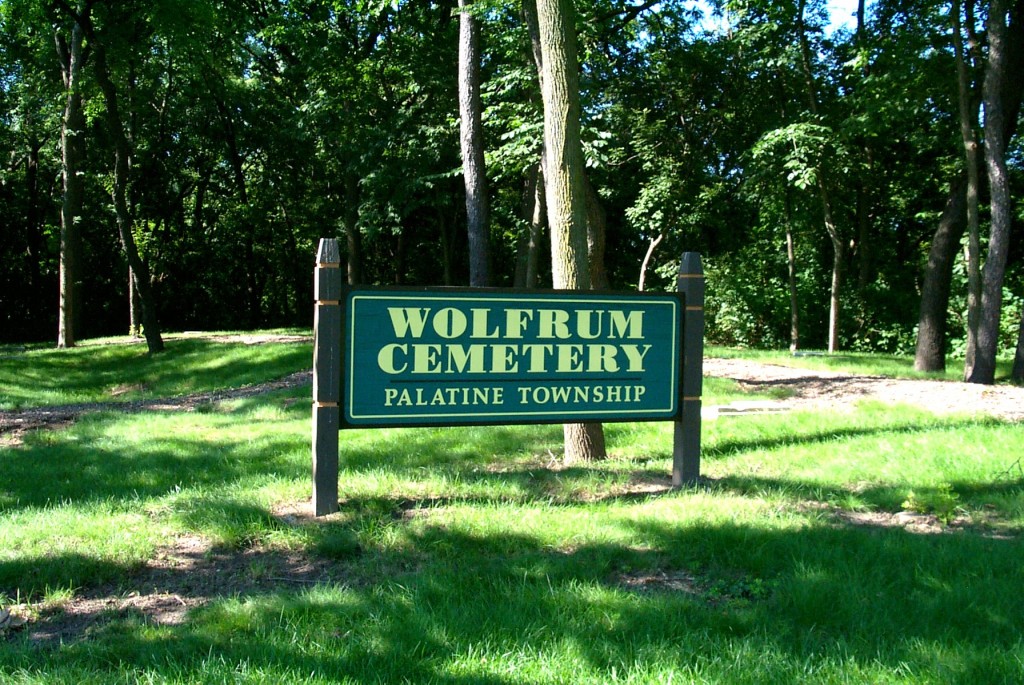 KNOWN BURIALS | WOLFRUM CEMETERY
Fredericka Parkhurst, Died July 9, 1841, Age 42 yrs.
Charles H., Son of Moses and Rosett E. Durkee Departed this life April 23rd AD 1840, Aged 6 months.
Isabel C., Daughter of A.S. & E. Clapp Died Oct. 10, 1846, Ae. 10 y. 3 Ms.
Thomas Torrance, Died July 25, 1857, Ae. 46 y. 5 m. 3 d.
Ellen M., Wife of E. L. Hill
John A., Son of G. & E. Hall Died Aug. 3, 1843 (This stone belongs at Cady Cemetery)
Warren H., Son__________, Feb. 27, 185__, Aged 20 Y's, 3 M. & 16 D's
Laura Isabell, dau. Of William & Mary Dickinson Died Oct. 11, 1856
Broken piece with the year 1869
Son of C.A. & __________, d.____, Aged 2 yrs. 10 ms. & 17 ds.
Four small slabs usually the size for infant burials with only initials on them:
C. M. N. W. D. Y. N. W. M.