5 N. Benton Street, Palatine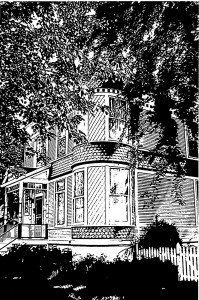 This Queen Anne has a round tower with a conical roof. It was built in 1892 by Albert Smith on the site of his brick house that had burned the previous year. That house had been built in 1883. Albert had a novelty mail-order business. He sold the house to Theodore and Anne Freye in 1903. They made an apartment out of the second floor. Theodore died in 1928. Widow Amanda Mosser and her son, Robert, were living here at that time. Mrs. Freye died in 1947. The house was occupied by Harry Tharp in the mid-1900's. He took over the Frank Danielsen Funeral Home at 25 E. Palatine Rd. In 1987 the Davis family purchased the house and restored it to a single family dwelling. Many original details had to be restored. Note the dentils along the eaves, fish scale siding, rounded windows on the turret, gingerbread, railings and newel posts.
23 N. Benton St., Palatine (southeast corner Slade St.)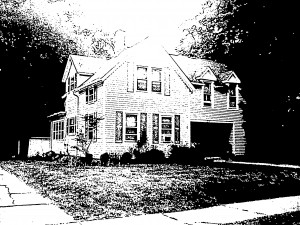 This Victorian home with stained glass borders on some windows was owned in the 1870's by Mr. and Mrs. Warren Bissell, who lost a son in the Klondike gold rush. The house was remodeled by Walter Rennack in 1947. There is a round window in the south gable, typical of 1870 homes. About 1917, Fred and Minnie Holste moved here. She died in 1943 and Fred moved to Wauconda in 1946.
24 N. Benton St., Palatine (southwest corner Slade St.)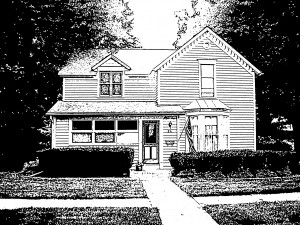 This house was owned by C. DeWitt Taylor who came to Palatine in 1880. He married Elizabeth French. Mr. Taylor was village president of Palatine from 1914-1920. Half of the old frame Methodist Church was moved in the back in 1895 and used as a pigeon loft. In the late 1920's, Taylor's son and his wife, Hilda, lived here.
37 N. Benton St., Palatine (northeast corner Slade St.)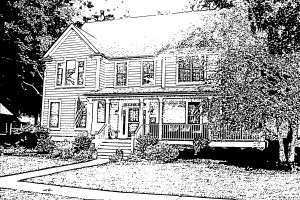 Known as the Sawyer house, this home was built in 1870 for Mr. and Mrs. Ira Coleman who purchased the lot from Joel Wood in 1863. Most of the old part of Palatine was owned and subdivided by Wood after the railroad came in 1853. Wood purchased most of the land from David Root who bought it from the government in the 1840's. The north part of the house was added by the Sawyers in 1890.
49 N. Benton St., Palatine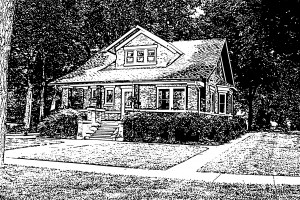 This house was built in 1920 for Charles and Bertha Schoppe. They moved into town after Charles retired from farming. Charles continued to garden in his yard and Bertha was known for her plentiful flower garden. They held an open house at home for their 50th wedding anniversary in 1938. The house was sold after Bertha's death in 1953 for $23,000. The second floor was remodeled in 1997.
50 N. Benton St., Palatine
This home was built in 1904 by Henry Bergman for Albert Mosser who ran a drug store at the southeast corner of Slade and Bothwell Streets for many years around the turn of that century. In 1929, Fred and Irene Ninneman lived here. He worked for the Chicago and Northwestern Railroad. Edward and Helena Brockman, Irene's parents, lived here. Before World War II, the house was converted to a two family. Recently, the house was restored to its original layout.
58 N. Benton St., Palatine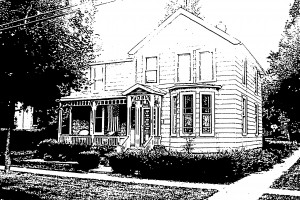 The white stick-like decoration on this house was used widely in other suburbs in the 1880's, probably the date of this house. Lucy and Louis Flake lived here after their marriage in 1917. Mr. George C. Butler, principal of Palatine High School, lived here next, around the 1930's.
61 N. Benton St., Palatine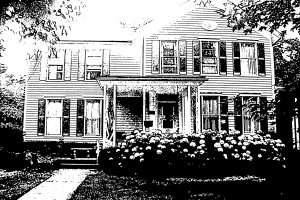 Benjamin Waters bought this land in 1863 and built the south portion of the home in 1868. The north part was built in 1902 by James Young. The next owner was James Mair, manager of the Bowman Dairy, and then Charles Klopp, architect, who gave the house its graceful colonial appearance.
103 N. Benton St., Palatine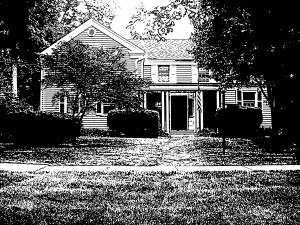 Elijah French built this house in 1864. He ran a blacksmith and carriage shop in Palatine. His daughter, Libby French, lived here until she died in 1928. Libby's cousin, Flora Joiner, had the house next; she died in 1935. The house has been remodeled several times. In 1939, architect Charles Klopp supervised renovation for Roy LaLonde, removing a second floor flat that had an outside stairway leading to a second floor porch.
104 N. Benton St., Palatine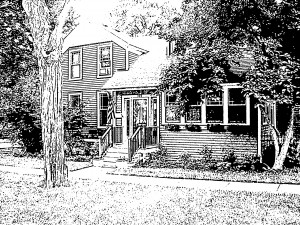 This house was built by Joseph Slade in 1878 and was American farmhouse style. It had a barn, outhouse, and backyard well. It was remodeled about 1900 by John Umdenstock when a second floor was added. John and Caroline Linnemann, retired owners of the Fairview Dairy Farm of Palatine, bought the house in 1924. Their son John and his wife lived here until 1979. Recent owners have added a bedroom and an attached garage.
116 N. Benton St., Palatine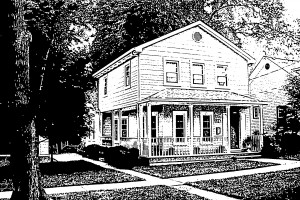 Early history of this house could not be found, but it's believed to be from the 1870's or 1880's. The front windows that go to the floor are unusual in Palatine. Charles and Mary Shaddle moved here in 1904. Their daughter Harriet and her husband, Charles Nichols lived with Mrs. Shaddle after her husband died. Charles was a park ranger in Deer Grove Forest Preserve.
117 N. Benton St., Palatine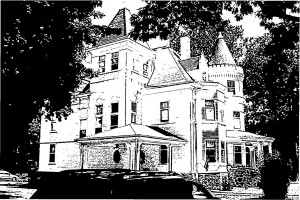 Charles H. Patten, Palatine banker and village president of Palatine in 1894-95, had this house designed by a Chicago architect and built in 1898. This Queen Anne has towers like a French chateau and is Palatine's largest and most distinctive home. The original house on this lot was built by John Patten, who came to Palatine in the 1850's. The current house is on a two acre lot and once had a carriage house behind it. For over 100 years the Patten family lived in this house. It was placed on the National Register of Historic Places on October 6, 2006.
157 N. Benton St., Palatine (SE corner Lincoln St.)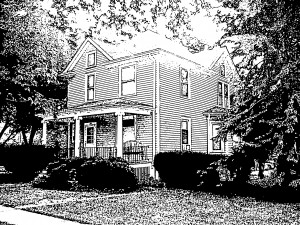 Carpenter John Umdenstock constructed this house in 1907. It reflects the new interest in classical architecture that had started as a result of the 1893 World's Fair. This style was slow in coming to Palatine; as late as 1905 Victorian style houses were being built. John died here in 1953 and his wife, Hattie, in 1955.
202 N. Benton St., Palatine (SW corner Lincoln St.)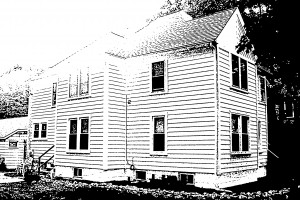 This large home was probably built in the 1880's. It has been extensively remodeled and originally had much gingerbread decoration. The Frank Keyes family lived here from about 1900 to 1920. In 1929, Anna and Silas Nordmeier and mother, Sophie Nordmeier, were in residence.
203 N. Benton St., Palatine (NE corner Lincoln St.)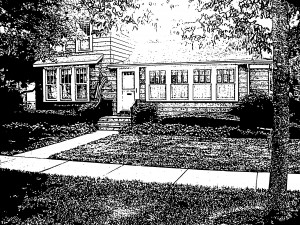 This small Queen Anne cottage is certainly old; possibly it dates from the 1870's. It has been remodeled. The Carolyn Wieneke family lived here until 1940.
222 N. Benton St., Palatine (SW corner Colfax St.)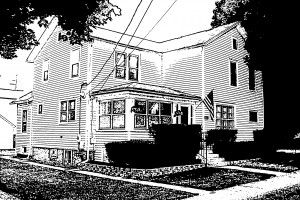 This house was built in 1868, probably by B. L. Dodge, first principal of the Wood Street School. It has been remodeled but probably was simple vernacular style. In 1873, Mrs. Eliza Clayson, mother of George Clayson, bought it. She died in 1874 and it was sold to Grove Bennett. He was an early settler coming to Deer Grove in 1837. He lived in this house until his death in 1895. Next, the William Wilson family moved here. Mr. Wilson died in 1897; his widow, Emily, and children lived here many years. By 1929, Edward and Alma Tonne were here.
Residences By Street
(click a street to view homes)
237 N. Benton Street, Palatine (NE corner Colfax St.)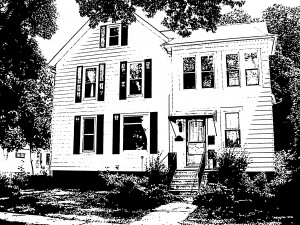 This old house has been so modernized that there is no clue as to what it originally looked like. It was owned by Henry and Emma Langrehr who also owned much of the surrounding land. Henry died in 1942.
238 N. Benton St., Palatine (NW corner Colfax St.)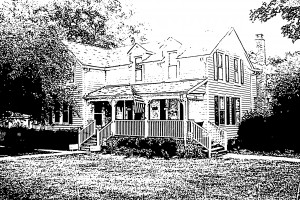 This house was moved about 1900 from the north side of Baldwin Road (now Northwest Hwy.) where it had been the Anson Baldwin and later, the Anderman/Gibbs homes. At this location, it belonged to Tim Nichols who came to the area in 1867. His daughter, Mary Burlingame and her husband, John, lived here with their family and with her mother, Minerva. The house is over 100 years old, but was modernized when moved. An addition to the north was added later. James Toynton, Palatine druggist, lived here many years with his wife, Bertha. He died here in 1938.
244 N. Benton St., Palatine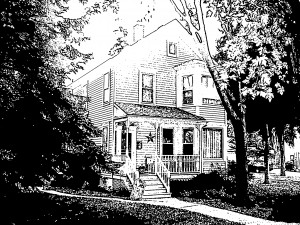 This home is from about 1880-1890. The house was bright yellow, a typical Victorian paint. White houses were unpopular at that time. The house has its original gingerbread on the porches. William Hokemeyer and his wife Anna lived here in the early 1900's. Their daughter, Alice, and her husband, James Will lived with them. William worked for the Ost Flour Mill.
257 N. Benton St., Palatine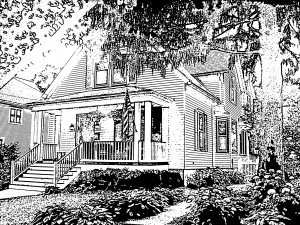 Isaac Kubler bought this land in 1874 but never built anything on it. John Umdenstock bought the lot in 1902 for $175. The next year John and Hattie took out a $900 mortgage to build the house that included gas, heat, electricity, and plumbing, one of the first houses here to have electricity. They paid off the mortgage by 1907 and sold the house to Charles Lutz for $2600. In 1909 it was sold to Henry Von Harz and in 1930 to Walter and Mary Wittenberg. Ralph Langhorst bought it in 1946. An addition to the back of the house was put on in 2000.
263 N. Benton St., Palatine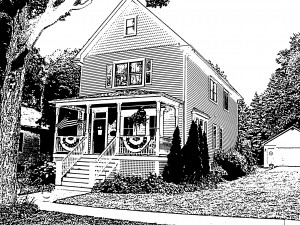 This house was moved from Aptikisic about 1920. As it came down Hicks Road they had to jack up the house to get it over the concrete sides of the bridge over Nason Creek (just north of the new police station). The only indication now that this is an old Victorian home is the south parlor window with its gingerbread decoration.
306 N. Benton St., Palatine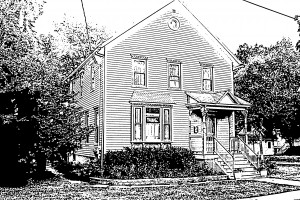 This elegant, late Victorian home is in perfect shape. It has not been spoiled by any external modernization. The windows and gingerbread are good. It was built by George Schroeder about 1900. It has its original trap door to the basement in the front hall. George's son, Arthur, owned the house next.
309 N. Benton St., Palatine (SE corner of Sherman St.)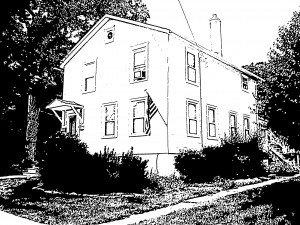 This home was built ca. 1879 by William Jahnke who owned a large Dutch type windmill that ground grain for local farmers. The mill was also built n 1879. The Jahnkes moved away in 1894. The mill was destroyed in 1900 when the area was subdivided. The mill was located to the rear of his house on the highest land that was later the garden of Mrs. Clarence Comfort. In 1929, Mrs. Ella Engelking lived here.
320 N. Benton St., Palatine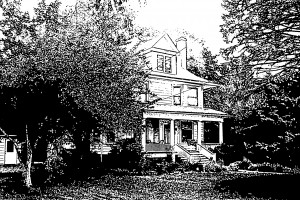 The house of Dr. Ray Gibbs, it is typical of the plain square house built from 1895 to 1910 as a reaction to the fussy Victorian style. It was about this time that white paint became popular for houses. Dr. Gibbs was a dentist in Arlington Heights. He willed the house to his daughter, Dorothy Mair. Dorothy lived next door to her father.
325 N. Benton St., Palatine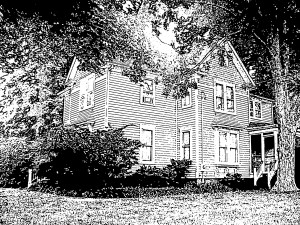 Another beautifully restored Victorian home. It is a little plainer though. John Gainer, a mail carrier, built the house in 1902 for $2500. By the late 1920's, his daughter Pauline and her husband, Arthur Malley, lived with him. Mr. Gainer died in 1934.
338 N. Benton St., Palatine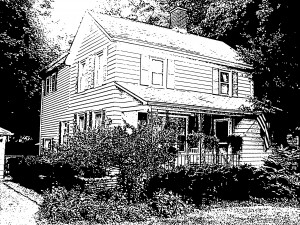 This home was moved from the east side of Plum Grove Road to its present location about 1900, It had been owned by Henry Dahle. Hale Street didn't exist at that time so it was easy to move it straight east to its present site. It was in the Berlin family for many years. Remodeling of the porch and front was done later by Charles Klopp.