146 N. Bothwell Street, Palatine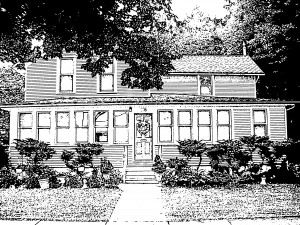 This home is probably from the 1870's. Note the treatment at the top of the gables. It was the home of Rollin Williamson when he first married. He was admitted to the bar in 1870. By 1880 he was a Superior Court judge and that same year he and his wife had a large and elaborate home built across the street. That building was torn down in 1946. The Leseberg family lived in this house during the 1920's.
200 N. Bothwell Street, Palatine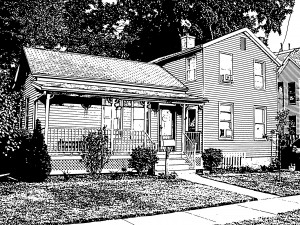 This house was given to Thomas Falls Wilson by his children, one of whom was Dr. John Wilson. Thomas Wilson came to Palatine in 1840 and was a part-time preacher. Later the house was owned by Libby Wilson Clark. During the 1920's, Paul and Irene Wilson lived here. Paul was Thomas's great-grandson.
204 N.Bothwell St., Palatine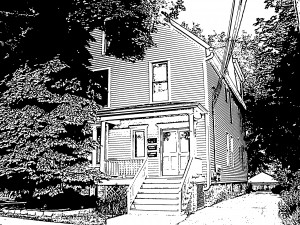 This was always a two flat building from circa 1900. It is Victorian style and brightly painted, known at the Hitzemann House. Henry Hitzeman worked for Marshall Field's for many years and for a dozen years had a store in Palatine called "The Right Place."
223 N. Bothwell St., Palatine (SE corner Colfax St.)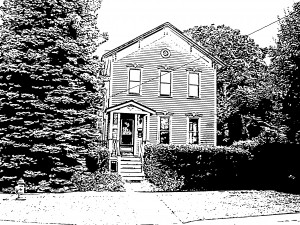 This Victorian house was built in the 1870's by Isaac Kuebler in the Italianate style. It has unusual window frames and a round gable window. A 1920's renovation added a kitchen and pantry as well as indoor plumbing and heating. When the Quoss family purchased it in 1981, extensive interior renovation was done. In 1996 the original front porch was restored and a back porch was added. An expensive nine color paint job won it the 1996 Chicago's Finest Painted Ladies Award.
248 & 260 N. Bothwell St., Palatine
Both these homes were built in 1905 by Henry Matthei, an early storekeeper, for his children. Philip lived at 260 and Annie Matthei Brockway at 248. They are late Victorian with restrained gingerbread. Their lawns ran together before the garage was built much later at 248. There was a fruit cellar where the family made beer, wine, root beer, and sauerkraut. This area is considered the first subdivision beginning in 1902; it was called "silk stocking street". After 25 years, Henry's son George lived at 260 with his wife Lou Ethel. He took over the store when his father retired. Annie's daughter Mae lived at 248 with her husband, George Howes.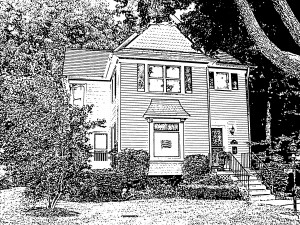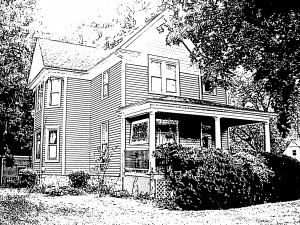 249 N. Bothwell St., Palatine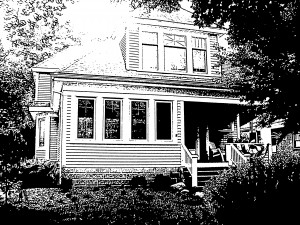 This home was built for Henry and Edna Heise about 1910. The front porch was enclosed later on. The William Henning family lived here from 1924-1979. The house has its original hardwood floors and claw-foot tub. The kitchen was extensively remodeled in the late 1900's. The upstairs was remodeled in the 1980's. A skylight was added as well as air conditioning. The master bedroom has the original dormer but dormers were added to extend the 3rd bedroom out over the porch.
255 N. Bothwell St., Palatine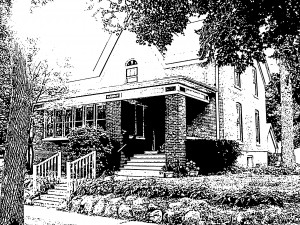 This was built in 1870 by James Wilson. It stood at the north end of Bothwell Street (Richmond Street at the time) and was surrounded by a large nursery. When the land north of Colfax was subdivided in 1902, it was moved to its current location and turned. The large brick home was later painted white and a red brick porch added.
302 N. Bothwell St., Palatine (NW corner Richmond St.)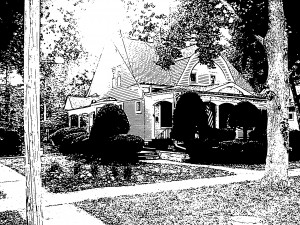 This house is of the same period, though a little larger. It was owned by Dr. John Malcolm, a dentist, about 1910. He died in 1925; his wife, Alma, remained here and later married Arthur Feddeler.
307 N. Bothwell St., Palatine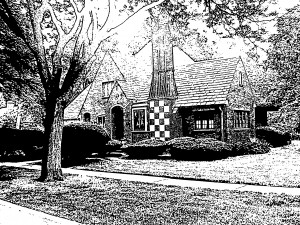 This English Tudor style home was built in the 1920's by Frank Danielsen, village president from 1923-26. Danielsen originally lived at Palatine Rd. and Bothwell St.. That location became his funeral parlor, built at the same time as this house.
310 N. Bothwell St., Palatine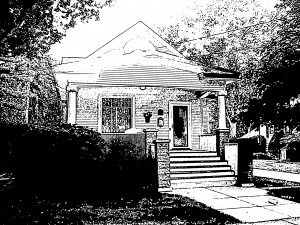 This was once the home of Charles Wittenberg, village president in 1954. He was a carpenter and built this home. The house has an interesting three arch effect on its front gable, almost hidden by the porch. It was probably built about 1910.
316 N. Bothwell St., Palatine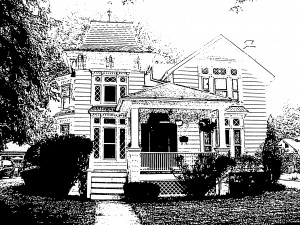 This house was built about 1870 on the southwest corner of Bothwell and Wood Streets. It was moved here about 1925. The house has a mansard roof on its tower, stained glass windows and lots of gingerbread trim. Architecturally, the house is one of Palatine's most interesting homes. It was built by J.P. Filbert, who owned a drug store and at one time did shoe repair work. His son, Fred, who lived in the house before it was moved, was a banker and died from wounds received during a bank robbery. Originally, the house was a cottage, two rooms down and two up. Fred added the upper section with the mansard roof and entrance in the 1890's. He also added an extension at the rear and a two-story bay. At one time the house was divided into two apartments. It was restored in the late 1990's.
Residences By Street
(click a street to view homes)