149 N. Brockway Street, Palatine (NE corner Wood St.)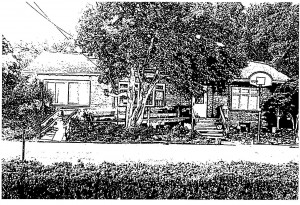 The south part of this building was the residence of William and Amelia Ost and was built about 1920. Ost was fire chief from 1917-1933. Ost Field behind the old high school on Wood Street was named after him. William died in 1943 and Amelia died in 1957. That year the Palatine Public Library purchased the building and put on a large addition to the north by means of a $125,000 referendum. When the Library moved to a new building at 500 N. Benton St. in 1975, the Universalist Unitarian Church purchased the building. The Church built a new facility at 1025 N. Smith St. in 1992. The Full Gospel Church of Hope occupied the building until 2004. It has been home since then to The Church of God's Grace. Before 1920 the old Stroker house was at this site. The Stroker house was cut in half to make way for the Ost house. The front half was moved to 422 N. Plum Grove Rd. and the rear half moved to 400 N. Plum Grove Rd.
201 N. Brockway Street, Palatine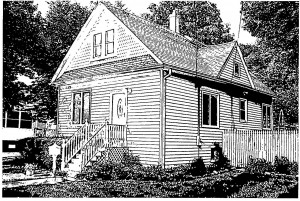 This property was once owned by Libby Clark who lived behind it on Bothwell Street. The small house is from the early 1900's. The Hecketweiler family lived here about 1910 and may have built it. In 1929, Marie Meyer and her son, Herbert, resided here. She was a widow; she died in 1947.
217 N. Brockway St., Palatine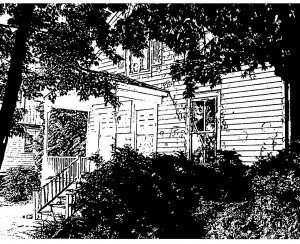 This house was here by 1910 when the Zuelsdorf family lived here. In 1929, Theodore and Pearl Helgeson lived here. They came to Palatine in 1920. Later, the Schwankoff family resided here.
260 N. Brockway St., Palatine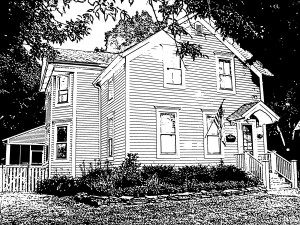 This house could date back to the 1860's. It was moved here later. William Kreft, banker, lived here ca. 1910. Later, Dr. E. Sanford, dentist, lived here. In the 1920's, William and Freida Wiehrdt lived here and in the 1930's, their daughter, Frieda and her husband, Louis Haemker, were in residence.
261 N. Brockway St., Palatine (SE corner Richmond St.)
This house was built around 1900. About 1905, the Dollinger family moved here from Wheaton. For a time, Albert Smith ran his mail-order novelty business upstairs in this house. He had started his business at 5 N. Benton in 1900. By 1929, Charlotte Hafferkamp lived here.
268 N. Brockway St., Palatine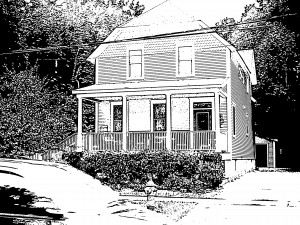 John Kreft built this house in 1908. John's daughter, Emily Berndt, moved here when she got married in 1919. The upstairs originally had a hand pump for water but no bathroom. A small bath was added in the 1920's. It was a two flat when purchased in 1958. The Hansens renovated the house. A porch was added in 2000.
303 N. Brockway St., Palatine (NE corner of Richmond St.)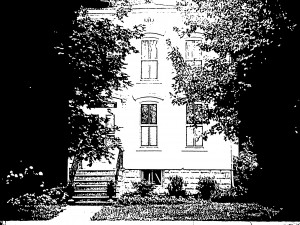 This house was built in 1866 by Myron Lytle who also built an identical home at 104 N. Plum Grove. This house was the home of George Whipple, Justice of the Peace and police magistrate and was located at 37 N. Plum Grove Rd. When he died about 1911, the house was purchased by Albert G. Smith and moved to its present location. The original wraparound porch was removed prior to moving. One of the Smith sons, George, lived here with his wife Marge. She sold the house in 2006. New owners have restored it.
310 N. Brockway St., Palatine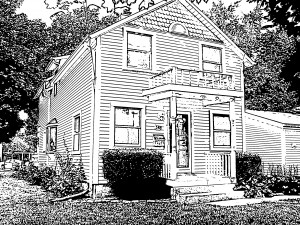 This is a simple, very old home. William Downing owned it for many years. It was purchased in 1907 from the Downing estate by Albert Olms. Later Silas Nordmeier had a milk station in the basement. In 1929 Fred and Agnes Kleinsmith lived here. Fred was a chauffeur for Standard Oil Co.
330 N. Brockway St., Palatine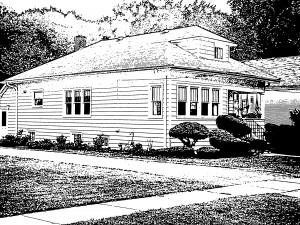 This and the five houses to the north were built by Walter Swanson in 1923-24. They sold for $3,500 each. Frank and Queenie Frasser lived here. He was the proprietor of the Palatine Paint Store.
Residences By Street
(click a street to view homes)