18-24 N. Hale St., Palatine (SW corner Slade St.)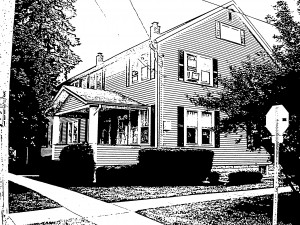 These four wooden townhouses were converted from the Wilkening Livery Stable that was in business here from about the 1870's to the 1920's. In 1924, Frank Oltendorf converted the building. Each townhouse rented for $37 a month then.
50 N. Hale St., Palatine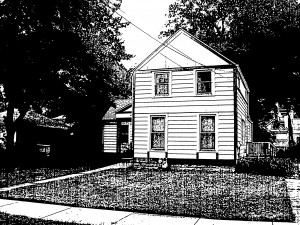 Built around 1880, this house has been extensively remodeled. Chris Blohm was an early owner. His wife, Margaret, lived here until her death in 1938.
57 N. Hale Street, Palatine (SE corner Lincoln St.)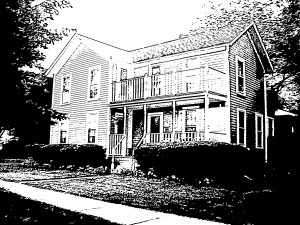 Built in 1868, this house was more elaborately decorated with a railing around the roof of the porch. It was known as the Wienecke house; Conrad and Sophie Wienecke lived here earlier followed by their son George and his wife, Clara.
156 N. Hale Street, Palatine (SW corner Lincoln St.)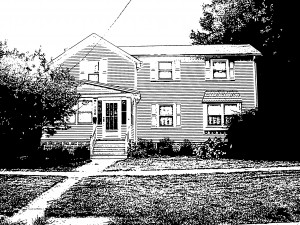 This house was once a barn moved here before 1870 and remodeled. It had two rooms downstairs and two more upstairs. Additional rooms and a front porch were added later. In 1924, August Rosenwinkel moved here from his farm in Plum Grove. His daughter Minnie lived with him.
157 N. Hale Street, Palatine (SE corner Lincoln St.)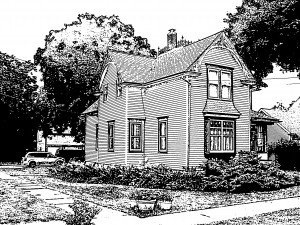 A lovely gingerbread home with elaborately carved bargeboards (the boards that edge the roof at the gables). Note the cast iron railing around the top of the roof. It was built for Charles and Caroline Froelich in 1902 at a cost of $1600 with an additional $300 for the barn. He died in 1938 and she in 1949.
202 N. Hale Street, Palatine (NE corner Lincoln St.)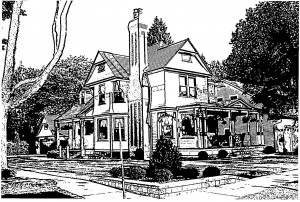 This Queen Anne with elaborate shingle pattern on the upper walls dates to circa 1890. The Diantha Lambert family lived here around 1900. Her daughter Vashti, was in Palatine High School's first graduating class. She became a teacher in Jefferson Park but taught Sunday School for many years at the Methodist Church. The current owners have done extensive renovation on the house.
203 N. Hale Street, Palatine (NE corner Lincoln St.)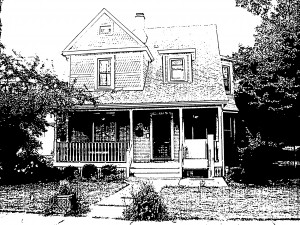 This house has an almost identical shingle pattern and similar floor plan to 202 N. Hale and was likely built at the same time. Elmer Robertson lived here about 1895. Half of the old Methodist Church was sold to him for $150 to be used as a pigeon loft. Charles and Amanda Julian lived here a long time. Charles had a tennis court on the north side of the house where he allowed Palatine High School students to play. In earlier years he owned a creamery at Kitty Korners (Rand and Dundee Rds.), He was a deputy coroner and clerk of the Cook Co. Circuit Court. He died here in 1946.
210 N. Hale Street, Palatine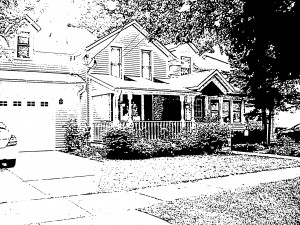 Jonathan Wilson lived here after 1890. He had married Ann Kitson in 1860 and was a farmer. He was later a shoemaker.
222 N. Hale Street, Palatine (SW corner Colfax St.)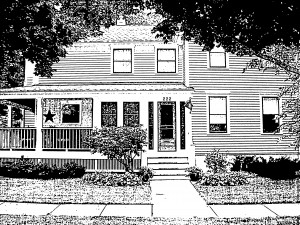 This is another old house from about 1870. We do not know who built it. The Ira Frye family came from Minnesota and stayed in this house prior to moving to 225 N. Plum Grove just to the west. The Mike Sneible family lived here around 1900. Mr. Sneible was a custodian at Joel Wood School. By 1929, his widow, Caroline, lived here with her sons George and Walter. She died in 1942.
Residences By Street
(click a street to view homes)