37 N. Plum Grove Rd., Palatine (NE corner Slade St.)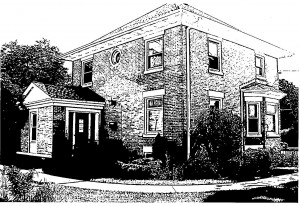 This square brick house was built in 1912 by Louis and Sophia Schultz. Before that the Whipple house stood on this site. It was built in 1866 and moved to 303 N. Brockway St. The Palatine Township offices moved here in 1960. In 1980, the Township wanted to expand their parking lot. A wooden carriage house on the property was moved to the Clayson House Museum at 224 E. Palatine Rd. In 1992 Palatine Township moved out and the building then became the PHD Counseling Center. It is empty at this time.
49 N. Plum Grove Rd., Palatine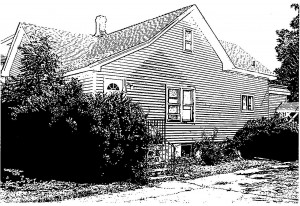 This house has been greatly altered and shows no signs of its original date. The steps originally faced Plum Grove Road. The George Kuebler family lived here in the 1890's. George was a barber with a shop in the old Masonic Building at Wilson and Bothwell Streets. By 1929, Hattie Kuebler, daughter of George and Louise was living here. She died in 1958. The Robert Jensen family also lived here.
55 N. Plum Grove Rd., Palatine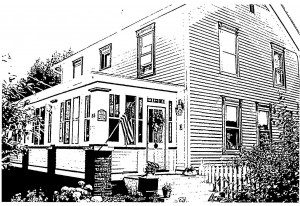 This house was built in 1877. The heavy window frames indicate that this is a Victorian house. The Torgler family lived here before 1900. Henrietta Torgler operated the switchboard for the Palatine Phone Company in her dining room from 1902 to 1919. Henrietta died in 1929. At that time she was a widow and her son, Walter, and married daughter, Bertha, lived with her.
137 N. Plum Grove Rd., Palatine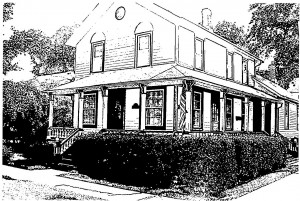 This house was built in 1873. The owner, Henry Godknecht, had been a cigar maker who was burned out by the Chicago Fire of 1871. Henry made cigars in his home and sold them in the front room of his house. The shutters placed over the display windows are still intact. The wooden Indian that stood on the porch is now at the Clayson House Museum along with Mr. Godknecht's cigar making equipment. Henry died in 1915; his widow in 1931. Their daughter, Margaret, lived here until her death in 1974. In 1975, the house was sold to George Pitelka who restored it beautifully.
157 N. Plum Grove Rd., Palatine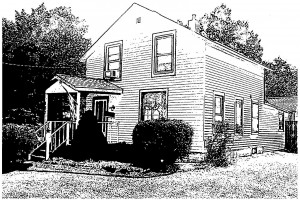 This house may date to the 1860's. The first known resident was Dr. A. N. Sheffner in 1877. The Lamberts lived here before 1900, later moving to Hale Street. Then the Gaertner family lived here. Mrs. Gaertner, formerly Mrs. Senne, also owned the property to the south where John Senne built a house in 1930. By 1929, Charles and Frances Ladwig resided here with their daughter, Louise.
203 N. Plum Grove Rd., Palatine
The plaque on this house says it was built in 1872. Records indicate that there was a structure here before that. The entire block was owned by Ransom Foskett. He sold this property and possibly a small house to Andrew Foskett in 1870. The house may have been a small barn that was expanded. Andrew Foskett sold the house and moved to Chicago in 1892.
217 N. Plum Grove Rd., Palatine
Anson Bennett, a carpenter born in Palatine in 1857, built this house about 1880. His family lived here until his death in 1924. At that time it was purchased by Louis and Millie Peterson. Louis died in 1948 although family members continued to live here for many years.
225 N. Plum Grove Rd., Palatine (SE corner Colfax St.)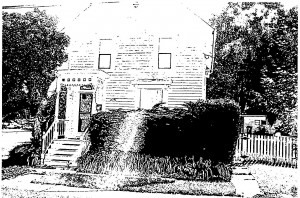 This small, simple house has a Victorian porch with gingerbread similar to many in town. It was built in 1867. The shutters were added much later. In 1870, W. G. Alden, who started the town's first newspaper, the Palatine Enterprise, lived here. There was originally a large barn in the rear. Ira Frye bought the house from Alden in 1894. Ira and later his son, Fred, ran a livery stable in town. Ira died in 1906. At that time, his son Fred came back to Palatine from Minnesota to take over the livery stable. Fred's wife, Frances, died in 1938 and he died in 1949. The family continued to live in the house until 1979.
234 N. Plum Grove Rd., Palatine (NW corner Colfax St.)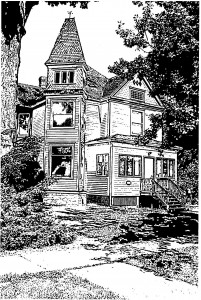 Edwin and Zilpha Converse lived on the Converse farm at Quentin and Baldwin Rds. until they built this house in 1885. This property was formerly part of the Wilson nursery. This Queen Anne has a shingled mansard tower and beveled stained glass windows. Daughter Rose held a private kindergarten here on the property. In 1929, John and Emma Stempel lived here. During the 1950's, the home was operated as a nursing home. From the 1970's to the 1990's it was owned by Harry Benstein and was the home of Aberdeen Insurance. It was recently owned by a law firm.
237 N. Plum Grove Rd., Palatine (NE corner Colfax St.)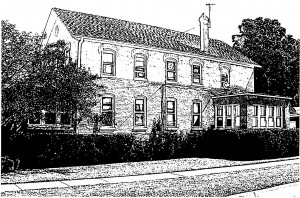 This house was built in 1870 and is said to have been built of Kitson brick. Mr. Kitson, a potter from England, made bricks on his farm at Palatine and Quentin Roads. William Wood was an early owner. The house has two porches added later. One of them is already on the house in a 1923 photo.
246 N. Plum Grove Rd., Palatine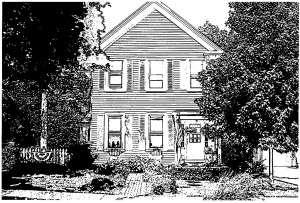 This house was built in 1901 in late Victorian style. It was remodeled in 1962 by Charles Klopp, Palatine architect.
In 1929, it was owned by Albert and Helen Schmidt. Helen died in 1944 and Albert in 1949. Frank Regan lived here until 2004.
249 N. Plum Grove Rd., Palatine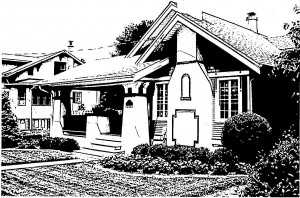 This home was built from a kit that was purchased from a Sears catalog.
254 & 260 N. Plum Grove Rd., Palatine
These houses were built in the early 1900's by Harry Bergman and his father, Henry Bergman, who were carpenters. They lived in the houses with their families. Henry's home at 254 has a recessed second floor balcony with an unusual railing and Ionic capitals on the front porch columns. In 1929, service station owner Charles Eberhard and his wife, Ida, lived here along with Allen Shope. The house at 260 is larger and simpler. Harry's family lived here. Later, Henry's daughter Margaret lived here with her husband, Albert Mundhenk. Margaret died in 1940. This building was also the rectory of St. Theresa's Church at one time.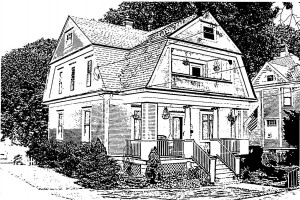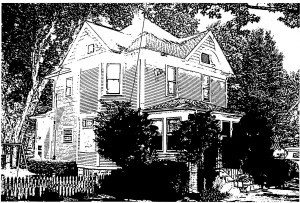 267 N. Plum Grove Rd., Palatine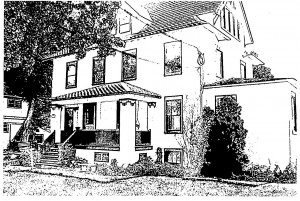 This large home dates from about 1910 and has "Prairie style" details. It was built by Alfred Brodhay, a former village trustee and lithographer. He lived here with his wife, Maude, until his death in 1937. The home has a basement and a subbasement.
305 N. Plum Grove Rd., Palatine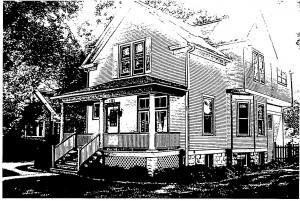 This small home with bay window was probably built about 1905. William and Minnie Roder moved here in 1910. William was employed by the Comfort Lumber Company and was a volunteer fireman for 35 years. He died in 1955 and Minnie died in 1962.
308 N. Plum Grove Rd., Palatine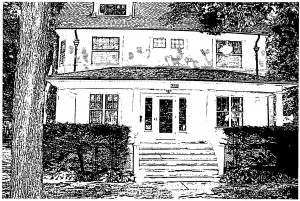 This block was part of the Wilson nursery until 1903. In 1906, Horace Hutchins Hart built this large frame home. His property extended to Bothwell Street. The barn has been expanded and modernized. Horace was married to June Bray and was head of a Chicago business firm. He died in 1938.
315 N. Plum Grove Rd., Palatine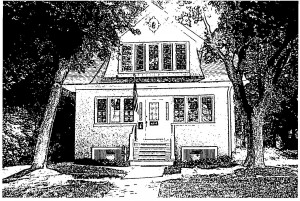 This cement home has a unique recessed balcony. It is from the 1910 period and was built by Adolph and Emeline Godknecht. Adolf was the son of cigar maker Henry Godknecht. Adolph was village president of Palatine from 1933-1941. He worked for the Chicago and Northwestern Railroad.
319 N. Plum Grove Rd., Palatine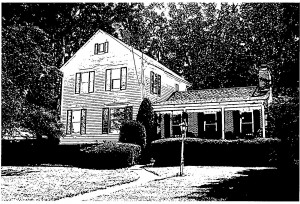 The north part of this home was once half of the Knigge livery stable located at the rear of 44 W. Wilson Street. Mr. Knigge built a new home there in 1896. It is believed that the building was not moved to this location until after 1903. It was remodeled and a brick wing added later. The Henry Dahle familiy lived here for many years.
328 N. Plum Grove Rd., Palatine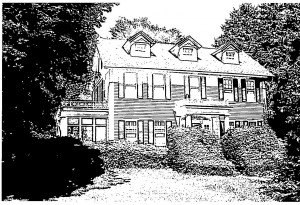 This large colonial revival home was built in 1907 by Ralph Peck, attorney, banker, and school board president. He was married to Caroline Kirchoff. The rear entrance was from Bothwell Street. Again, this property was part of the Wilson nursery.
349 N. Plum Grove Rd., Palatine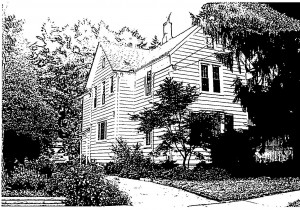 This house has four identical gable ends. The Edward Hahnfeld family lived here and they sold it to Wilfred and Lola Muller. Extensive remodeling was done in 1963.
400 N. Plum Grove Rd., Palatine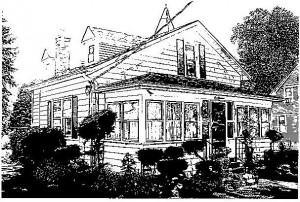 This house is the rear half of the Stroker house that stood at 149 N. Brockway St. from the 1870's to about 1920. It was moved to make way for the brick house built at that location by William Ost. Arthur and Edith Hahnfeldt lived here in the 1920's. They both died in 1948. Irv and Minnie Hahnfeldt and later son Irv Jr. lived here until 2012. Scott and Gretchen Saflarski are the proud new owners.
408 N. Plum Grove Rd., Palatine (SW corner Robertson St.)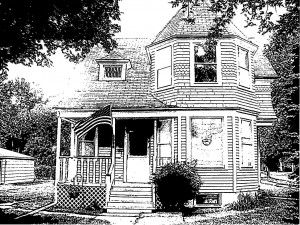 This house is a Queen Anne in the shingle style with an octagonal corner tower. Connecticut speculator David Root purchased the land from the federal government in 1847 for $1.25 an acre. The house was probably built by Charles Julian in 1894. He lived here until after 1900. It is likely that early in its history the house was raised up on jacks and a basement dug out with horses and scrapers. A coal furnace in the basement heated the building via floor grates. Later railroad ties were fed to a wood stove in the dining room. Chas. Patten sold the house in 1910 to building mover Fred Haemker. Fred and Bertha had twelve children. He died in 1923 and his wake was held in an upstairs bedroom. It is said that Bertha enjoyed having people over and no one could leave without a sandwich, coffee and her home-grown dandelion wine. Lightning struck the tower in 1934 and caused minor damage. Bertha died in 1936. Successive owners included Palatine's first auto mechanic Ernest Baldwin and Victor Zyck. The house was a two-flat during WWII. After the war a stairway entrance to the second floor at the northeast corner was removed. A first floor closet was converted to a bathroom just prior to the Henry Schaeffer purchase in 1956. The Schaeffers removed the barn and outhouse in the back. Son John built a new front porch with packing lumber from the railroad. Historian David Hammer purchased the home from Mary Schaeffer in 1986.
422 N. Plum Grove Rd., Palatine (NW corner Robertson St.)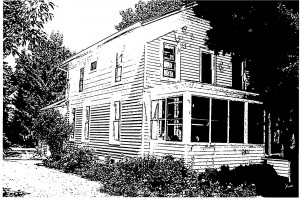 This is the front of the old Stroker house built in the 1870's at 149 N. Brockway St. It was moved here about 1920 to make way for the new Ost brick house. It retains the wood window frames that show in an old photo of the house before it was moved. It was owned by the Dietrich Ellinghusen family after it was moved here.
428 N. Plum Grove Rd., Palatine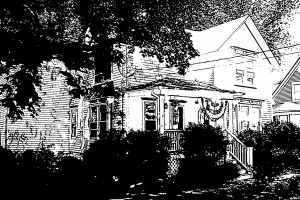 This simple Victorian cottage was built by Charles Meyer in 1894. Al Hanns, who lived around the corner, helped him build it. By 1929, Martin and Martha Fiene lived here. Martin died in 1957 and Martha in 1975.
436 N. Plum Grove Rd., Palatine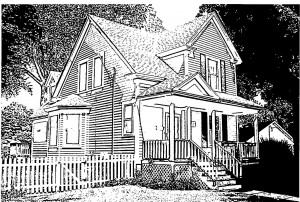 This simple Victorian home was built by Dr. Muffet, probably in the 1890's. He sold it to Charles Fosket in 1910. Charles died in 1926. His widow, Mary, continued to live here with Mortimer and Mae Fosket. Mary died in 1947. Mortie was the son of Charles and Mary; he died in 1967.
Residences By Street
(click a street to view homes)