156 E. Slade St., Palatine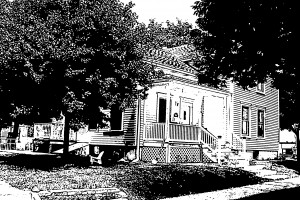 Built by Jacob Herschberger in the 1870's this is a simple Midwest farm house type called vernacular. It is typical of a great many of the Palatine houses built before 1885. Some of these rather plain homes may have had Victorian gingerbread decorations removed after 1910 when it was out of style. Note the circular windows in the gable. Many houses of this period have the same window or variations of it. Laura and William Danielsen lived here in 1929.
132 E. Slade Street, Palatine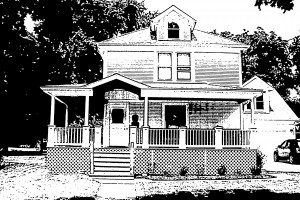 The Gosswiller family came from Long Grove to live this house in 1907. It was built then by Ben Wenegar, carpenter/contractor. By 1929 Louisa Gosswiller was a widow and her daughter, Ida, and her husband Walter Meyer came to live with her.
121 E. Slade Street, Palatine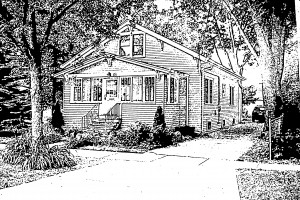 This land was platted in 1896 and the house built in 1910 by Clarence and Rose Plagge. The potting shed is original to the house. In 1929, the Charles Folz family lived here. He was a Palatine policeman and then police chief from 1941-1949. The front porch has been enclosed. A family room was added to replace the open porch but the original cistern is under it. The sun room was added in 1993.
60 E. Slade Street, Palatine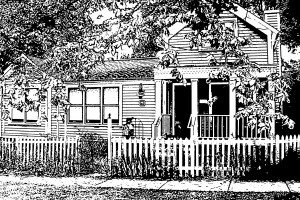 This simple cottage was built by John Pahlman in 1865. He came to Palatine township in 1853 and died in 1874. A photo taken about 1900 shows his son, "Grandpa" Herman Pahlman standing beside the house. The porch was not enclosed and there was no picket fence. Members of the Pahlman family lived here until 1948.
49 E. Slade Street, Palatine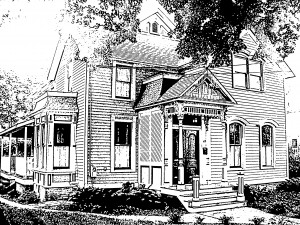 This Victorian cottage has nice stained glass windows and gingerbread details. Zelda Daniels was born here about 1885 and at the turn of the century the Ben Jacoby family lived here. By 1929, William and Emma Schwankoff were in residence.
43 E. Slade Street, Palatine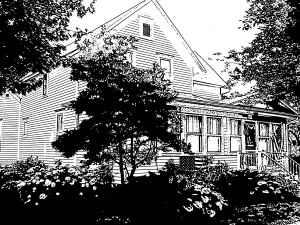 Joel Wood owned this property in 1855. It was originally four lots, two on Slade St. and two behind backing to Palatine Road. The Midwestern style farmhouse was built in 1899. A two-story carriage house is original to the property. The sun porch was formerly open; the house's clapboard is original. During the 1920's and 1930's Fred and Caroline Schuenemann lived here and then their son Henry and family.
24 E. Slade Street, Palatine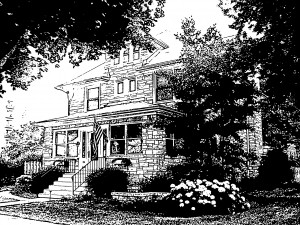 This large square house was built in 1910 by Ben Wenegar. This style was popular at that time. It was stucco originally and covered with stone about 1970. Ben also built the brick Wood Street School in 1912.
19 E. Slade Street, Palatine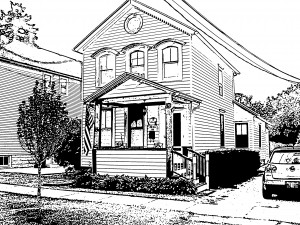 This little Victorian home probably dates from 1870-1880. It has typical heavy window frames and little remodeling. Jacob Burkhardt lived here. He had a shoe repair shop in the 1890's. By 1929 the Charles Snyder family lived here.
9 E. Slade Street, Palatine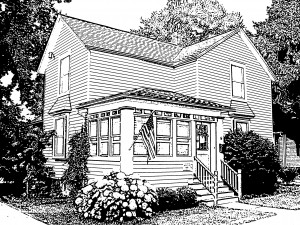 Built by Conrad Hildebrandt who married Bertha Dahms; they lived here ca. 1900. Bertha died in 1923 and Conrad remarried.
3 E. Slade Street, Palatine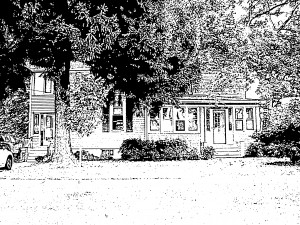 In 1864, Darius Wood, brother of Joel Wood, built the original part of this house as a general store facing Plum Grove Road with his house in the rear. It was Palatine's Post Office at that time and Wood was the post master for ten years. He closed the store after 32 years and in 1899 he sold the building to Ike Blum. In 1910, Blum removed the store entrance and added a second floor. Later this was made into an apartment. The garage is the original carriage house. The home was sold to William Schragge who had his real estate business here as well as his residence.
Residences By Street
(click a street to view homes)