104 E. Wood St., Palatine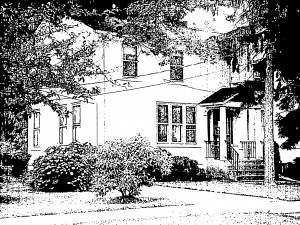 This painted two-story house is possibly made of Kitson brick (from John Kitson who made bricks on his farm on Quentin Road) and is reported to date from the 1870's. The Pohlman family lived here around 1900. In 1929, Fred Berlin lived here.
55 E. Wood St., Palatine (SW corner Benton St.)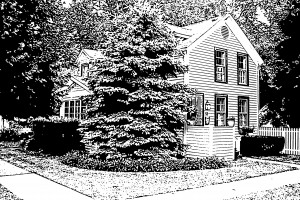 This simple farmhouse was built by Milan Reynolds, ca. 1880. He came to Palatine in 1861 and was a partner of Zimmer Hardware until 1906. In the mid 1900's, Stuart Paddock, publisher of the Enterprise/Daily Herald lived here for many years. Mr. Paddock built a garage around 1957 and added a porch. In the 1980's, the attic was opened up and dormers added.
43 E. Wood St., Palatine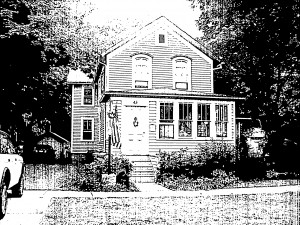 This home was built in the 1870's or 1880's probably by Jacob Wenegar at 16 E. Slade Street. It was moved here around 1910. Herman Rennack lived here for a time. Fred Wickersheim retired from farming about 1918 and moved here with his wife Minnie and his daughter Anne.
35 E. Wood St., Palatine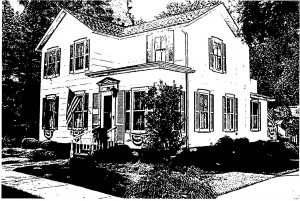 Elisha Fenton came to Palatine in 1859 with his family. He started this home before enlisting in the Army at the start of the Civil War. He returned and finished the house in 1865. In 1880 the Fentons moved to Lincoln St. and sold the house to Wallace Keyes. Elmer Robertson and Mary Patten owned the home for a few years until it was purchased in 1892 by Elnora Hunt. Elnora's daughter and her husband Alma and Gus Arps lived here later, followed by Elnora Arps Foster and family. The current owner says that one of the central walls contains 8 inch logs.
18 E. Wood St., Palatine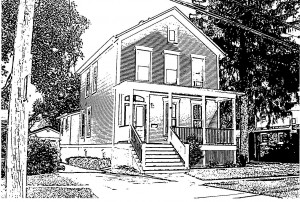 The abstract of the property shows that Joel Wood sold the land to a Mr. Halleck in 1859. He sold it to Mary Keith. She sold it to Harris Webster in 1874 for $525. Mr. Webster moved at that time from his farm at Deer Grove. He likely built this house after purchasing the property. In 1884, he sold the house to Michael Umdenstock for $2100. In 1929, Jacob Link lived here; he died in 1944. When the home was remodeled, the porch and window trim, shown in an early photo, were removed and wide aluminum siding applied.
Residences By Street
(click a street to view homes)