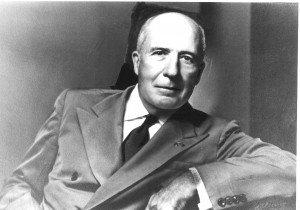 The Arthur T. McIntosh Co. was founded by Arthur McIntosh Sr. in 1907 in Chicago. McIntosh and his son, Arthur Jr., developed over 500 subdivisions and developments in the Chicago area. Soon after its founding McIntosh bought extensive pastures in the vicinity of 63rd and 83rd Streets from State Street west to Pulaski Avenue in Chicago. He subdivided more than 2,000 acres in the city before turning his attention to suburban property. South suburban Harvey was his first venture outside Chicago. After World War I ended he came to Palatine and liked its gentle rolling hills. He bought some land and developed it into his first subdivision here, Palatine Farms. He went on to add Palanois Park and Fairgrounds Park as well as other subdivisions adding up to over 3,000 acres around the village.
Arthur McIntosh established a reputation as a prestigious land developer with exclusive communities. He is best known for the development of Inverness. It started in 1926 when he bought Temple Farm, originally built by Ralph Atkinson, for a summer home for his family. He saw the possibility of developing a community and began buying more property. Over the next 20 years he purchased eleven farms and the Meadow Grove Country Club that eventually became the Inverness Golf Club. He bought dairy farms, grain farms, and a hog farm until he had a solid block of 1500 acres to built his community. The land reminded him of his ancestral home of Scotland and he named it after the capitol of the Scottish Highlands.
Arthur McIntosh wanted to preserve the natural landscape so he set strict standards for construction. No major roads were built into the community to give people privacy and to protect the natural setting. Houses followed the topography and were built on rises and were on one acre lots. The first homes were generally one story. No fences, no streetlights, no curbs were allowed. McIntosh planted thousands of trees. The first sale took place in 1939. Despite the Depression, houses sold for nine to twenty thousand dollars. The village of Inverness was incorporated in 1962. The four silos from McIntosh's farm are now the village hall of Inverness.
Arthur Sr. died in 1955 and his sons Arthur Jr. and Gilbert continued the business until it was dissolved in 1985.
A partial list of subdivisions that Arthur T. McIntosh & Co. developed follows:
Addition to Lincoln Estates, Frankfort Township
Arlington Heights Farms
Ashland Avenue Addition, Harvey
Belmont Country Club Addition, Downers Grove
Chicago Avenue Farms, Palatine
Cicero Avenue Addition, Oak Forest
Crawford Countryside, Matteson
Deer Grove Farms Subdivision, Palatine Township
Deer Park Grove Farms, Palatine Township
Des Plaines Acres
Dixie Highway Addition, Markham
Dunham Street Subdivision, Downers Grove
Fairgrounds Subdivision, Palatine
Fairmont Heights, Westmont
Fairway Park Subdivision, Itasca
Falkirk of Inverness
Farmington on Long Grove Road, Kildeer
Ferry Road Farms, Naperville
First Addition to Arlington Heights Farms
Forest Lake Subdivision, Lake Zurich
Geneva Road Subdivision, Wheaton
Glen Ellyn Woods, Milton Township
Glenrise Estates, Milton Township
Glenview Countryside, Northfield Township
Hawthorne Hills, Olympia Fields
Helm's Farm, Inverness
Hillside Addition to Barrington
Home Addition to Lombard
Inverness Farm
Kenilworth Highlands, Palatine
Lake Inverness
Lambert Road Farms, Glen Ellyn
Lincoln Meadows, Mokena
Lincolnwood Subdivision, New Lenox
Lisle Countryside
Lisle Farms
Lombard Gardens Subdivision, Lombard
Lombard Heights Subdivision, Lombard
Lorraine Road Subdivision, Wheaton
Main Street Addition to Barrington
Maple Avenue Subdivision, Downers Grove
Meadow Grove Country Club, Palatine Township
Miller Woods, Steger
Naperville Highlands, Naperville
Northwest Acres Subdivision, Palatine
Northwest Highway Subdivision, Palatine
Northwest Meadows Subdivision, Mount Prospect
Northwoods, Winfield Township
Oak Meadows, Cuba Township
Ogden Poultry Estates, Lisle Township
Palanois Park Subdivision, Palatine
Palaridge Subdivision, Palatine
Palatine Estates Subdivision, Hoffman Estates
Palatine Farms Subdivision
Palatine Hills
Palatine Manor Subdivision, Palatine
Palatine Ridge Subdivision, Palatine
Park View Acres, Barrington
Pine Wood Subdivision, Olympia Fields
Pleasant Hills, Inverness
Plum Grove Farms, Palatine
Plum Grove Road Development, Palatine
Prestwick, Frankfort
Quintens Road Farms, Palatine
Rohlwing Road Acres, Palatine
Sauk Trail Farms, Steger
Southtown Farms, Harvey
State State Farms, Steger
Turnberry, Lakewood
Village of Inverness
Washington Highlands Subdivision, Palatine
Westmont Acres
Winfield Knolls
Woodland Hills, Batavia